News story
UK secures EU rule change to make cycling safer
The UK has delivered changes to EU law to require all new lorries to be fitted with improved mirrors, ensuring the safety of cyclists.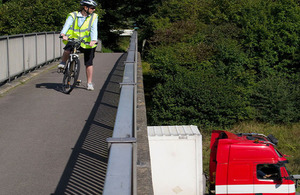 Updates to mirror requirements will reduce blind spots on the passenger sides of lorries and improve cycling safety, following successful negotiations by the UK government at an EU-level.
The new safety standards were developed by the Department for Transport and a vote on 16 December 2015 means they will be introduced across Europe. For the first time it will be mandatory for all newly registered vehicles in the UK to have the improved mirrors.
In 2014, 115 pedal cyclists were killed or seriously injured on British roads in accidents involving at least one HGV.
Road safety Minister Andrew Jones said:
Safer lorries mean safer cyclists. I am delighted the UK government has got the outcome it wanted.

This shows we are fighting hard for Britain in Europe, delivering sensible decisions which can make a real impact back home, and giving us the best of both worlds.

As a result of our actions, Europe will now adopt these improved standards which will save lives.
As well as leading EU efforts to improve cycle safety, the government is investing in the UK, providing safer junctions on road networks, traffic-free cycle links and cycle training in schools.
Currently, 8 cities are benefiting from the Cycle Ambition City programme which has seen the creation of major new cycle routes up and down the country, and we are investing £50 million over the next 4 years to train the next generation of cyclists through the Bikeability scheme. As part of the Road Investment Strategy, which is dramatically improving the strategic road network, £250 million has been dedicated specifically to improving cycling safety.
Today's vote in Europe also saw the adoption of new safety standards for electric vehicles, and improved safety and accessibility requirements on buses.
All measures will come in to force in July 2016.
News desk enquiries
Media enquiries 020 7944 3021
Out of hours media enquiries 020 7944 4292
Switchboard 0300 330 3000
Published 17 December 2015