UK-Russia tackle pressing foreign policy issues
Foreign Secretary William Hague today visited newly-reappointed Foreign Minister Sergey Lavrov in Moscow. They spoke about a range of global foreign policy issues including Syria and Iran.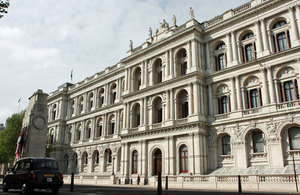 In statement to media during the meeting the Foreign Secretary said: "I am very pleased to be here with Foreign Minister Lavrov today and to be one of the first to congratulate him on his reappointment.. This visit comes at an important time in our relationship: with the inauguration of the new President a fortnight ago and the formation of a new Ministerial team a week ago.
"Russia is a strategic partner on the world stage, and we look forward to an important time of cooperation in the coming months. We have today agreed a structured dialogue on foreign policy issues, especially important and both our countries look forward to chairing the G8 and G20 respectively in 2013.
"This summer sees the arrival of the London Olympics and we're working closely with our Russian partners to share experiences ahead of Sochi 2014, including through a Host-to-Host agreement.
"In this year of our Queen's Diamond Jubilee it would be easy to dwell on Britain's past, which we are commemorating - but we are focused on the future prosperity on increasing and developing the economic and commercial links with Russia and we are pleased that this is one of our fastest-growing export markets, up nearly 40 per cent in 2011."
Turning to global security and the wider political agenda he said: We have discussed the situation in Syria where the Annan Plan, at present, offers the best chance to break the ongoing cycle of violence. We both want the plan to succeed and Russia's role is crucial in achieving this. We also discussed our serious concerns with Iran's nuclear programme - and our joint resolve to tackle this through diplomatic means, if possible.
"I don't deny that there have been challenges along the way in this relationship. But both sides are clear about the importance of working together where we have shared ground. Since the Prime Minister's visit we have been building cooperation in a whole range of areas including cultural cooperation and people-to-people links. And in recognition of our shared roles at Olympic Hosts in 2012 and 2014, we have today agreed a joint declaration on the Olympic Truce. We have agreed to use the unique opportunity for UK and Russia as hosts to cooperate closely to promote the ideals of the Truce.
"On global security and foreign policy issues as FM Lavrov says we have discussed the situation in Syria and we have had a very full and frank discussion about the situation. We may not always agree on some of the resolutions in the Security Council we have put forward in the last year. But we are very much agreed that the Annan Plan is the best hope for Syria at the moment - the only hope for Syria - to try to break the cycle of violence. I think we are all deeply disturbed by what we have seen over the weekend that has illuminated continuing killing and abuse in Syria."
He had spoken to Kofi Annan yesterday and today he was in Damascus. "We urge him to make every effort to start the political process, and to encourage, of course, as we must all encourage, the Assad regime to implement the six-point plan that they have not yet implemented. I think Russia has a important role to play in that as we have discussed today.
It is not as if the alternatives are the Annan Plan or the Assad Regime retaking control. The alternatives are the Annan Plan or ever increasing chaos in Syria and descent into all-out civil war and collapse. We need to redouble our efforts to make sure that Assad's regime implements the Annan Plan and we will work closely with Russia in doing so and there needs to be fundamental change in approach from the Assad regime if Syria is to be saved from ever greater chaos and disorder which will not be in the interests of Russia or any other country.
So I welcome the discussions we have had and the co-operation we have been able to demonstrate in the E3 + 3 talks last week in Baghdad on Iran's nuclear programme. We have a joint resolve to tackle this and 100 per cent of the effort of the British government is going into finding a peaceful diplomatic solution to the dispute with Iran. I welcome the fact that the next round of talks will be hosted in Moscow and we look to Iran to have more positive proposals at that time than they did last week in Baghdad."
The Foreign Secretary went on: "There is much that we are working with successfully in the relationship between the UK and Russia. I don't deny there have been challenges along the way and of course there are some unresolved difficulties but we have been building co-operation in many areas since the PM visited in September; building cultural co-operation, people-to-people links and we have agreed today structured foreign policy dialogues. But also in 2014-15 we will be able to make that period the UK Year of Culture and Language here in Russia and the Russian Year of Culture and Language in the UK and I think that will be very beneficial for our long-term relationship between the people of our countries.
But we are also pursuing and agreeing a joint declaration on the Olympic Truce as the next two Olympic hosts And so for the UK this is an exciting year, even an historic summer, because of the Olympics and the Diamond Jubilee and this is one of the ways which we are glad to be working closely with Russia. We are determined together to overcome some of the difficult problems in global affairs over the coming months."
Published 28 May 2012