Press release
UK pioneer wins European Inventor Award for research
Professor Christofer Toumazou wins the prestigious European Inventor Award 2014 for research.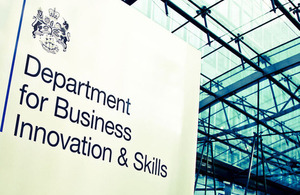 Pioneering UK inventor, Professor Christofer Toumazou, has won the prestigious European Inventor Award 2014 for research.
The prize was presented by UK Minister for Intellectual Property Lord Younger at a gala ceremony in Berlin on 17 June 2014.
Jointly developed with Imperial College London and DNA Electronics Ltd, his invention allows quick analysis of DNA, both inside and outside a laboratory, using a microchip that can easily be inserted into a USB stick.
Lord Younger said:
Professor Toumazou's award further emphasises Britain's reputation as a nation of innovators and entrepreneurs. His patents in the field of personalised medical diagnostics, in particular the DNA test on a USB stick, provide a ground breaking discovery for healthcare and patients.

Our businesses and inventors, like Professor Toumazou, bring a creative and innovative approach to their work and it is right that they are recognised in this way. I congratulate him on his award.
European Patent Office President Benoît Battistelli said:
One of the most significant challenges in healthcare research is to meet the needs of individual patients. Thanks to the efforts of Professor Toumazou, applications in this field have become much faster, more efficient and more economical.

With the help of patents, we can also spread inventions like these very effectively, which benefits millions of people worldwide.
Professor Toumazou's rapid DNA test uses a microchip that detects genetic disorders on-the-spot. It can identify every form of genetic deviation in the genome in just a matter of minutes. This makes it possible to detect a predisposition for hereditary diseases as well as to determine whether a patient is capable of breaking down specific drugs. The chip can be mounted on a USB stick, so that results can be quickly viewed on a computer.
Notes to editors
Professor Toumazou holds more than 50 patents and had his method for rapid DNA testing patented in 2001. In 2003, he founded DNA Electronics in order to develop and market the chip technology. The company has licensed the technology to the cosmetics company GENEU among others. DNA Electronics is currently preparing the development of a new product line of DNA testing devices.
Professor Toumazou's microchip can easily be inserted into a USB stick, thereby providing fast results on a computer. Pharmacies could soon offer this quick "do-it-yourself" DNA test as a kind of "pocket lab" for everyone. Using a chip, consumers can get the texture of their skin analysed and establish how hydrated it is. Based on this data, they can then match their skin care products to their genetic profile.
A total of 300 inventors and inventor teams were put forward for this year's award, 15 of who were selected as finalists by the international jury. This year's inventions cover the fields of biotechnology, construction, environment, mechanics, medical technology and pharmaceuticals, telecommunications and traffic safety.
Scientists, engineers and inventors, whose inventions have made a major contribution towards social, technological and economic progress, were honoured across 5 categories.
Published 17 June 2014