UK pavilion at Shanghai Expo already "an outstanding success"
One month since the opening of the world's biggest ever Expo in Shanghai, 53,000 visitors a day are coming to see the UK Pavilion and its cultural events.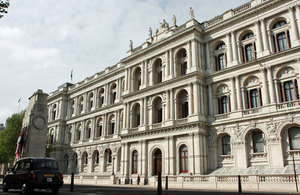 The UK's efforts to promote business at Expo have been boosted significantly by the profile and popularity of the UK Pavilion with 25 new inward investment leads in the first month. The UK's Seed Cathedral has become one of the defining images of the Shanghai Expo globally, and the Pavilion webpage on one Chinese networking site received over 80 million hits in the opening week.
The UK Pavilion has also been a huge draw for political and business leaders, welcoming 5,000 VIP visitors in the first three weeks - including top figures in the Chinese leadership, senior delegations from major Chinese and global companies and 200 different media organisations from around the world.
Minister for the Expo at the Foreign & Commonwealth Office Jeremy Browne said:
"The UK presence at Expo is already an outstanding success. The Pavilion is reaching capacity for visitor numbers nearly every day, and the related website pages have received millions of views.
"The investment leads and number of VIP visits are testament to the importance of having a strong presence at Expo and we are already seeing results. Hundreds of thousands of people will see the UK in a new light and this will help us drive trade and cultural links."
The open park space surrounding the Pavilion is a big success, with families staying to enjoy the entertainment from UK performers organised by the British Council. The UK is proving the importance of having open space in large urban environments and the cultural events reflect the UK's regional and national excellence and diversity in arts culture and sports.
Published 1 June 2010