News story
UK Minister comments on announcement of date for elections in Burma
Foreign Office Minister Jeremy Browne urges military government to allow free and fair campaign and polling process.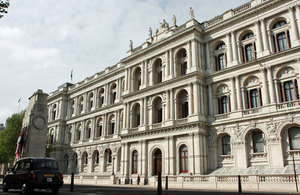 In response to today's announcement of the date for elections in Burma to be held on 7 November 2010, Foreign Office Minister Jeremy Browne said:
"These elections are set to be held under deeply oppressive conditions designed to perpetuate military rule. The Burmese people should have a real chance to vote for change. Instead, the first opportunity in twenty years for Burma's people to have a more open, stable and prosperous society has been missed.
It is not yet too late for the Burmese authorities to take credible steps to allow the citizens of the country to determine who should run their country. Today, I urge the Burmese military government to allow a free and fair campaign and polling process, to release all political prisoners, including Aung San Suu Kyi, and to instigate an inclusive dialogue with the full participation of all opposition and ethnic groups. Unless they do so, these elections will not have legitimacy or international credibility."
Published 13 August 2010