UK-India Energy for Growth Dialogue
A discussion about the shared commitment to clean and green supplies of energy.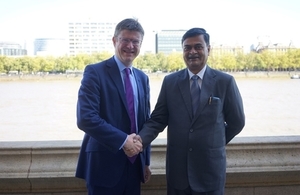 The second UK-India Energy for Growth Dialogue took place in London on 13 September 2018, hosted by the Secretary of State for Business, Energy, and Industrial Strategy. The Dialogue was part of a wider visit made by Indian Minister for Power and New & Renewable Energy, Raj Kumar Singh.
The Energy for Growth Dialogue focused on the shared commitments of both Prime Ministers to clean and green supplies of energy. Both countries are also committed to reducing the cost of developing and deploying clean energy projects.
Minister Singh and Secretary of State Clark celebrated progress on collaboration between both countries since the first Dialogue in 2017, particularly on power sector reform and the development of renewable energy.
The ministers endorsed a forward action plan for collaboration, and agreed to develop a proposal for a joint programme on Clean Energy for Growth to support the rapid and sustainable growth of India's energy sector. In addition to key actions to accelerate energy efficiency, this programme may include elements on renewable energy, power sector reform and elements of green finance.
They discussed the recent launch of the joint UK-India Centre for Energy Regulation, as well as India's leadership of the International Solar Alliance.
Minister Singh's visit was set against successful international summits held this week in India on Future Mobility and in the UK on Zero Emission Vehicles, demonstrating continued global leadership by both countries to make transport cleaner and greener. The Minister engaged with industry in business roundtables and visited an offshore wind farm, to see first-hand the steps that the UK has taken to install the largest operational offshore wind capacity in the world.
Published 18 September 2018