UK hosts meeting on nuclear disarmament verification research
The UK hosted a meeting at the Foreign Office today with the other P5 nuclear weapon states - the US, Russia, China & France - on nuclear disarmament verification research.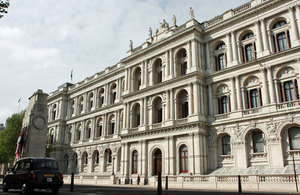 UK scientists and technical experts shared the outcomes and lessons from the UK-Norway Initiative - a research project on how to verify that a nuclear warhead has been dismantled. At the meeting, P5 experts offered their perspectives on the Initiative.
The meeting is part of collective efforts by the P5 to deliver on international commitments under the Nuclear Non-Proliferation Treaty (NPT).
Foreign Office Minister for nuclear non-proliferation Alistair Burt said:
"I am delighted to be welcoming our P5 partners to London to share the UK's experience from our research with Norway on the challenges associated with nuclear disarmament verification."
Minister for the Armed Forces Nick Harvey said:
"The UK-Norway Initiative has demonstrated that both nuclear weapon states and non-nuclear weapon states can make an active contribution to disarmament through this research, while meeting their non-proliferation obligations."
The UK Norway Initiative (UKNI) is a collaboration between British Ministry of Defence and Atomic Weapons Establishment experts and several Norwegian laboratories to investigate technical and procedural challenges associated with a possible future nuclear disarmament verification regime. The research is based on the principle that any future disarmament process will need to be underpinned by an internationally trusted regime that can demonstrate with confidence that nuclear warheads have been dismantled without revealing proliferative information. Collaborative work has been ongoing since 2007. This has included a number of unique exercises; important technical and procedural progress has been made.
The five nuclear weapon states met for the second P5 Conference in Paris in June 2011 to discuss their nuclear disarmament obligations under the NPT. The P5 agreed at the Conference a number of new initiatives, including convening for today's UK-hosted P5 expert meeting on disarmament verification.
Published 4 April 2012