Press release
UK gives support to Kenya in fight against wildlife poaching
British Environment Secretary announces British Army support to tackle poaching in Kenya.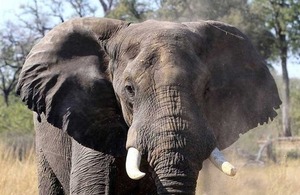 British Secretary of State for the Environment, Owen Paterson, is visiting Kenya this week where he will announce that the British Army will join forces with Kenyan anti-poaching groups later this month in an effort to crack down on illegal wildlife crime.
To help in the fight against poaching, British Army paratroopers will provide patrolling and field training to members of the Kenyan Wildlife Service (KWS), Kenyan Forestry Service (KFS), and Mount Kenya Trust (MKT) over the next few weeks.
During his visit, Mr Paterson will also discuss the importance of a strong legal framework to punish and deter the perpetrators of poaching and will highlight the work that the British High Commission, through its Criminal Justice Advisor, has been doing with the Office of the Director of Public Prosecutions and others, leading to the setting up of Kenya's Wildlife Crime Taskforce.
Speaking ahead of his visit Environment Secretary Owen Paterson said:
It will be an honour to meet so many people who work so hard to conserve some of the world's most iconic species for ourselves and our children.
Illegal poaching is having a devastating effect on some of the world's most iconic species and we must work together to tackle it.
By joining forces with those on the front line in Kenya, our armed services will be able to provide training and support to the courageous people who put their lives on the line every day to protect these animals.
The Environment Secretary will also use the visit to extend an invitation to the Kenyan Cabinet Secretary for Foreign Affairs & International Trade, Amina Mohamed, to attend the London conference on illegal wildlife trade in February next year.
This conference will focus on illegal wildlife crime and aims to tackle three inter-related aspects of illegal wildlife trade:
improving law enforcement and the role of the criminal justice system;
reducing demand for wildlife products; and
supporting the development of sustainable livelihoods.
The conference will focus primarily on elephants, rhinos and tigers as these iconic species are the primary targets of organised criminal activity and are facing unprecedented levels of poaching.
Owen Paterson added:
I want the London conference to be an event at which colleagues from across the world come together and agree the detail of how we will work together to tackle the scourge of illegal wildlife trade and leave the world a better place for future generations.
Photocredit: Tusk Trust
Published 1 November 2013