Press release
UK emergency supplies for cyclone victims arrive in Vanuatu
Britain is responding rapidly to help people affected by cyclone Pam.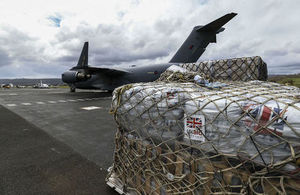 A Royal Air Force C-17 plane carrying shelter and lighting from the UK has landed in Vanuatu, International Development Secretary Justine Greening announced today.
The plane arrived in Vanuatu at 0300 GMT on Thursday 19 March, carrying 1,640 shelter kits which can house families of five people and more than 1,900 solar lanterns with inbuilt mobile phone chargers.
These supplies will help protect some of the most vulnerable people affected by the cyclone, especially women and children.
Also on board were two humanitarian experts from the Department for International Development who are now based in country to ensure that emergency supplies reach people in the region and assess what further assistance Britain can provide.
Justine Greening said:
Britain's rapid response to humanitarian disasters on the other side of the world is something to be incredibly proud of.

Cyclone Pam's trail of destruction has left thousands of people without their home and access to power. Our emergency shelter kits and solar lanterns, which have arrived thanks to the swift and invaluable support of the Royal Air Force, will help meet people's basic needs.

Britain stands ready to assist further to ensure supplies get to those in need and will continue to support the Government of Vanuatu as part of the wider Commonwealth effort.
Notes to editors
General media queries
Follow the DFID Media office on Twitter - @DFID_Press
Published 19 March 2015