Press release
Extra humanitarian experts deployed to help Vanuatu
UK funding confirmed for Red Cross Emergency Appeal.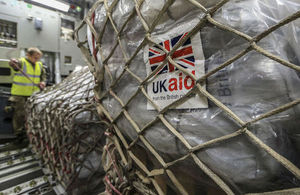 Britain will contribute £500,000 to the International Federation of the Red Cross Emergency Appeal to help thousands of people affected by Tropical Cyclone Pam and deploy three additional humanitarian experts to the region, International Development Secretary Justine Greening announced today.
The funding for the Red Cross appeal is the first allocation from the £2 million in emergency support pledged by the UK immediately after the disaster in Vanuatu, while the deployment of experts to the region is an important part of British efforts to ensure a strong and coordinated response from Commonwealth partners.
The Red Cross appeal will help up to 60,000 people with a focus on much-needed shelter, emergency health care, clean water supplies and work to protect and reunite families separated by the cyclone.
Following the deployment of a humanitarian advisor from the Department for International Development on Monday, a further three experts are now en route to the region to advise on the distribution of supplies and help with field assessments as part of the international relief effort.
Justine Greening said:
As a Commonwealth country it is right that we work with agencies on the ground to help people affected by Cyclone Pam rebuild their lives.

The Red Cross Appeal will get vital supplies to the most vulnerable groups, including the sick, and provide protection for women and children who have lost their homes.

The coordination of aid supplies on the ground is essential. That is why I have deployed a further three DFID humanitarian and logistics experts to provide essential advice and ensure our help goes where it is needed most.
A Royal Air Force C-17 transport plane, carrying vital supplies, departed from RAF Brize Norton on Monday 16 March to join the international relief effort. The UK continues to work closely with the Governments of Vanuatu, Australia and New Zealand to ensure a strong and coordinated response from Commonwealth partners.
Notes to editors
On Saturday 14 March, following a request from the Government of Vanuatu, Britain made up to £1 million available to UN organisations and international aid agencies in the region. The UK will also send an additional £1 million through DFID's Rapid Response Facility.

The Rapid Response Facility (RRF) was established in March 2012. It is a network of pre-approved specialist aid organisations and private businesses who can rapidly deliver emergency medical, water and sanitation assistance to affected people. Further information is available here: https://www.gov.uk/humanitarian-response-funding

On Monday 16 March a Royal Air Force C-17 transport plane departed for Australia to join the international relief effort.
General media queries
Follow the DFID Media office on Twitter - @DFID_Press
Published 17 March 2015