Press release
UK deeply concerned at dismissal of Maldives Election Commissioners
FCO Minister Hugo Swire responds to developments in the Maldives ahead of Parliamentary elections on 22 March.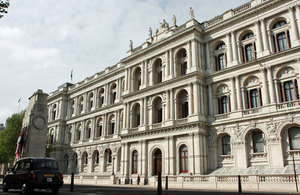 Ahead of Parliamentary elections later this month, the Maldives Supreme Court has sentenced the Chair and Vice-Chair of the Election Commission with contempt of court. In response to these developments, Foreign and Commonwealth Office Minister Hugo Swire said:
I am deeply disappointed at the Maldives Supreme Court's decision to sentence the Chair and Vice Chair of the Maldives Election Commission for contempt of court, and to dismiss them from the Election Commission. The charges laid and the procedures adopted represent an unprecedented expansion of judicial powers.
When I visited the Maldives in the wake of the 2013 presidential elections, I met the Chair of the Election Commission to discuss the serious difficulties the Commission encountered administering the presidential polls. Despite repeated judicial challenge, the Election Commission delivered elections widely judged by independent observers as transparent, inclusive and credible.
This recent move now appears to undermine the hard won independence of the Election Commission. This is extremely worrying so close to Parliamentary elections. We note that the Maldives' Parliament has now approved the appointment of a new member of the Elections Commission. We strongly urge the government of the Maldives to ensure that the Election Commission's independence is swiftly restored and to ensure that inclusive, free and fair Parliamentary elections are held within constitutional deadlines and in line with international standards. This is essential for the consolidation of democracy in the Maldives and for the country to uphold its international reputation after the difficult events of the last two years.
As a fellow member of the Commonwealth, we urge the Maldives to fulfil its commitment to democratic values. We welcome today's statement by the Commonwealth Secretary-General and expect the Commonwealth Ministerial Action Group (CMAG), as the custodian of the Commonwealth's political values, to address the situation in the Maldives substantively when CMAG meets in London on 14 March.
Further information
Follow Foreign Office Minister Hugo Swire on twitter: @HugoSwire.
Follow the Foreign Office on Twitter.
Follow the Foreign Office on Facebook & Google+.
Published 12 March 2014