Press release
UK condemns arrests in Sri Lanka
Foreign Office Minister Hugo Swire concerned about arrests of human rights defenders in Sri Lanka.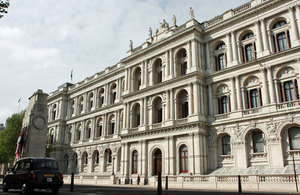 The Minister said:
I am deeply concerned to hear of the arrest and detention of two long-standing and well respected human rights defenders in Sri Lanka. Ruki Fernando and Father Praveen have a strong record of promoting peace, justice and reconciliation across the country. We are urging the government of Sri Lanka to allow them immediate access to lawyers and their families, and to clarify the basis on which they have been detained.

With the March UN Human Rights Council underway and a resolution on Sri Lanka under draft, these arrests underline why the Council must continue its focus on Sri Lanka. The world is watching what happens there, so I urge the Sri Lankan Government to respect human rights defenders and uphold the principles of free expression and movement. This should apply equally to all communities in Sri Lanka.
Further information
Follow Foreign Office Minister Hugo Swire on twitter @HugoSwire
Follow the Foreign Office on twitter @foreignoffice
Follow the Foreign Office on facebook and Google+
Published 18 March 2014