News story
UK campaign to become China's most welcoming tourist destination
Maria Miller launches China Welcome campaign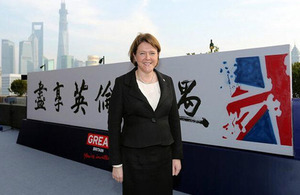 Culture Secretary Maria Miller has announced an initiative to make Britain the most welcoming destination in Europe for Chinese visitors.
VisitBritain's China Welcome campaign, launching in spring 2014, will showcase, promote and develop how the UK travel industry caters to the needs of Chinese visitors.
Speaking at the event in China, Maria Miller said:
Britain is very much open for business and this is just the beginning. We want businesses from up and down the country to get involved, sign up and be part of this new game-changing initiative.

The new 'China Welcome' initiative shows how serious we are about making sure Britain is ahead of the competition when it comes to attracting Chinese businesses and tourists. We are determined to encourage more Chinese people come to our shores, enjoy our culture, heritage, food, sport, shopping, countryside and music and invest in our country.
The China Welcome programme aims to secure 650,000 Chinese visits a year by 2020, worth nearly £1.1 billion annually to the UK economy. The campaign will work with businesses to share customer insights, raise cultural awareness and encourage the training of qualified Mandarin-speaking guides, to ensure that Chinese visitors to Britain get as much out of their trips as possible.
Get involved
Today's announcement is also a call for more tourism businesses to sign up and get involved. Signatories will benefit from an increased competitive edge, better recognition from Chinese tourists and, subsequently, more business from China.
Sandie Dawe, CEO of VisitBritain added:
" In the last twelve months China has become the largest tourism source market in the world, worth $102 billion. We want to make sure that Britain competes effectively for this market, helping the industry to develop products and services that appeal to Chinese visitors and making sure that the message of the GREAT British welcome is widely promoted."
Maria Miller has also announced that Birmingham Airport and Chinese tour operator Caissa – supporters of China Welcome –are working together to increase the number of Chinese visitors Caissa brings into the UK through Birmingham Airport
Find out more about the initiative.
Find out more about the UK trade mission to China
Read Culture Secretary Maria Miller's blog on the UK trade mission to China
Published 3 December 2013