Press release
UK calls for free, fair and peaceful elections in Maldives
FCO Minister Alistair Burt urges all parties to respect the outcome of the ongoing democratic process in Maldives.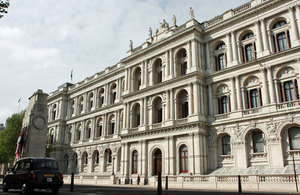 Foreign Office Minister Alistair Burt said:
It is vital for the good of all Maldivians that the Presidential election process currently taking place in Maldives is free, fair and peaceful.

Following the first round of elections, I congratulated Maldives that all election observers, both domestic and international, had judged the elections to be transparent and competitive, and carried out peacefully and in good spirit. The Commonwealth Observation Mission's interim statement noted that the voting register 'appeared to be accurate and robust', and that party and candidate observers were present in all of the polling stations they had observed.

Ahead of the second round of elections planned for 28 September, we encourage all Presidential candidates to respect the result of elections and the will of the people of Maldives, work side by side for a peaceful transition and encourage calm amongst their supporters. We hope that the second round of elections will be held as scheduled, and conducted in a similar free, fair and peaceful manner. It is crucial that all parties respect the outcome of this free and fair democratic process and make progress in further strengthening democratic institutions in Maldives.
Further information
Follow Foreign Office Minister Alistair Burt on twitter @AlistairBurtFCO
Follow the Foreign Office on twitter @foreignoffice
Follow the Foreign Office on facebook and Google+
Published 19 September 2013