UK, Australia and New Zealand working together in Afghanistan for national security
The UK Special Representative to Afghanistan and Pakistan, Mark Sedwill, visited New Zealand and Australia to discuss our common national security issues regarding Afghanistan.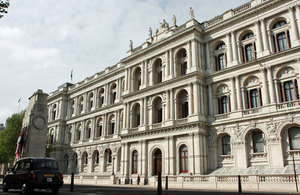 New Zealand and Australia are two of the 48 nations which form part of the international coalition working in Afghanistan. As part of the International Security Assistance Force (ISAF), both have troops present in Afghanistan. New Zealand leads ISAF forces in Bamiyan province, and Australian troops are based in Uruzgan province. Along with training and mentoring Afghan security forces, Australia and New Zealand are also involved in much of the stabilisation and development work going on inside the country.
Close cooperation between the UK and New Zealand and Australia is an important element for securing long term stability in Afghanistan. In Australia, Mr Sedwill spoke to MPs from both sides of Parliament. Their discussions included talks on the progress made on transition, political settlement and how the UK, NZ and Australia can best work together in Afghanistan in the future. In an interview with Australian media afterwards Mr Sedwill said:
The first phase of the transition has gone pretty well and we are seeing the Afghan Security Forces stepping up to take responsibility. They do things in a different way from the way we do it, but in the areas where they've taken it on they're performing well. And that includes Kabul."
He talked about the target for a significant reduction in numbers of foreign troops present in Afghanistan by the end of 2014, and the means by which that can be achieved:
The key number here is the number of the Afghan Security Forces, and we've all agreed now to build those up to over 350,000 army and police over the next couple of years. And we expect that they will be able to take the primary responsibility.
Afghan Security Forces took the lead in Kabul last Friday in responding to the insurgent attack on the British Council compound. They helped to ensure that the British staff there were safe and unharmed. They were supported by New Zealand Special Forces, one of whom was tragically killed whilst helping to counter the attack.
Mr Sedwill also expressed sympathy for the family of an Australian soldier who died recently in Afghanistan:
All of us have lost far too many young men in this fight. But it's also important to remember that it's for our own national security that they're fighting, Australian national security, British national security that they're fighting. And we have to have the patience to see this through.
Published 24 August 2011