Press release
UK and Republic of Korea hold first strategic talks in London
Foreign Secretary Philip Hammond met Republic of Korea Foreign Minister Yun Byung-se for first round of ministerial strategic talks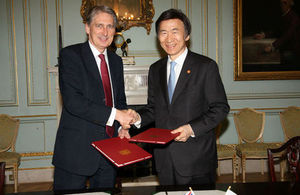 As well as discussing international issues such as security, trade and climate change, Ministers also agreed that the UK and ROK would do more to help each other when dealing with consular problems in other countries.
After the meeting Foreign Secretary Philip Hammond said:
Since President Park's visit last year, our relationship with the Republic of Korea has grown even closer. This Dialogue was an excellent opportunity to take stock of what we're doing to build international peace and security, and to secure the future prosperity of our countries. It was particularly fitting that it took place on the same day as the unveiling of the Korean War Memorial, which serves as a symbol of the strength of the ties between our countries and our mutual commitment to the universal values of freedom and democracy.

We had a long discussion of the foreign policy challenges our countries face at this time and the opportunities for collaboration between us. One such opportunity is greater consular collaboration, and I am delighted that we signed a Memorandum of Understanding on Consular Crisis Cooperation. The Memorandum will enable us to do more together to plan for emergencies around the world. I thank the RoK for helping to evacuate 48 British nationals from Libya earlier this year on a Korean warship. Our countries already work together when our citizens are caught up in international crises.
Further information
Published 4 December 2014