News story
UK and Morocco agree to hold strategic dialogue
Foreign Secretary meets Moroccan Foreign Minister, agrees to hold regular dialogue and reaffirms UK support for democratic reform in Morocco.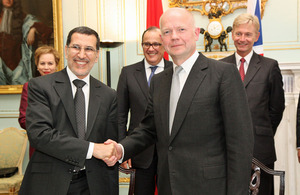 On Monday 15th April, the Foreign Secretary hosted lunch for a high-level Moroccan delegation. Speaking after their discussion, William Hague said:
I was delighted to welcome my Moroccan counterpart Dr Saad-eddine El Othmani and HE Mr Taib Fassi Fihri today. Their visit confirms our strong relationship and our shared aspiration for a secure, peaceful and prosperous North Africa. We agreed to establish a series of regular strategic exchanges on wider foreign policy issues. Mr Fassi Fihri delivered a personal message from the King to the Prime Minister.
I reaffirmed the UK's support for further progress towards implementation of Morocco's new constitution, including on the protection of human rights and democratic reform. Our Arab Partnership programme is supporting Morocco's efforts to tackle corruption and encourage political participation by civil society.
We discussed a number of regional issues on which we have been working together as members of the UN Security Council, including the situation in Mali. I welcomed Morocco's support for efforts to resolve the crisis in Syria through its regional leadership on the UNSC and by hosting the Friends of the Syrian People conference in Marrakech in 2012.
We discussed efforts to expand economic ties between our two countries, noting that, in 2012, bilateral trade exceeded £1bn. I believe we can do more and I am sure that this will remain an important element of the relationship as it continues to develop.
Published 15 April 2013