News story
UK and Japan strengthen civil nuclear ties
The UK and Japanese governments have signed a Memorandum of Cooperation strengthening cooperation across civil nuclear activities.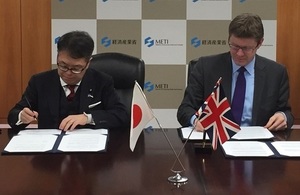 A Memorandum of Cooperation has been signed today (22 December 2016) between the UK and Japanese governments to strengthen cooperation between the 2 nations across a full range of civil nuclear activities.
UK Business and Energy Secretary Greg Clark signed the memorandum in Tokyo with Japan's Minister of Economy, Trade and Industry, Hiroshige Seko, during Greg Clark's third visit to Japan since being appointed in July. Japan is the second biggest investor in the UK economy and there is extensive collaboration between the 2 countries on a range of civil nuclear activities, including decommissioning, research and development, and new nuclear.
The Business and Energy Secretary also visited JAXA – the Japanese Space Agency - and KEK – High Energy Research Institute to discuss continued collaboration on international scientific projects as well as meeting with Toshiba, Hitachi and Fujitsu during his visit.
Business and Energy Secretary Greg Clark:
Our partnership with Japan is a clear example of how strategic international relationships can power the economy and create opportunities at home and abroad – an important part of our industrial strategy.

The potential of this collaboration is to create thousands of highly skilled jobs and create major opportunities for the development of supply chains which can provide British engineering and expertise to the civil nuclear industry around the world.
Two Japan-led consortia, Horizon and NuGen, are developing proposals to build new nuclear projects in the UK. Horizon's proposed project on Anglesey and NuGen's proposed project in Cumbria could create up to 20,000 jobs in the UK and provide close to 15% of the UK's electricity needs. It is also estimated that they would bring around £20 billion worth of contracts to the UK's supply chain companies.
In addition to new build nuclear projects, the memorandum also covers cooperation on decommissioning and decontamination, research and development and global safety and security practices. The UK is a world leader in nuclear decommissioning and waste management, and closer collaboration with Japan will deliver real benefits for both countries in ensuring a sustainable future for nuclear power.
Published 22 December 2016