Press release
UK and Brazil commit to closer working in 2015
Foreign Secretary Philip Hammond and Brazilian Foreign Minister Mauro Vieira today held the fourth UK-Brazil Dialogue in London.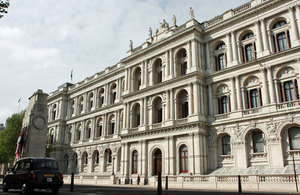 Established in 2012 the Dialogue is intended to improve information sharing and joint working between the UK and Brazil. The focus is particularly on issues of international importance such as security, trade and climate change.
The Foreign Secretary said:
I am delighted to welcome Minister Vieira to London for the fourth UK-Brazil Dialogue.

We highly value our relationship with Brazil, as partners working together on issues such as global security, climate change and cyberspace, where we are building workable solutions.

The UK and Brazil already enjoy close links on science, technology and innovation, but we can strengthen that cooperation more generally in our trading relationship. As part of this Government's long-term economic plan, we are promoting British businesses and exports, especially in developing markets such as Brazil, to help boost economic growth and jobs.
As part of today's dialogue the two countries agreed a commitment to action on security, trade, climate change, education, science, cyberspace, human rights, and the post-2015 development agenda.
Further information
Find out more about the UK and Brazil.
Published 25 February 2015