News story
Two weeks left for farmers to apply for BPS 2016
With the two week countdown underway farmers should act now and make their 2016 Basic Payment Scheme claim before the deadline of midnight on 16 May.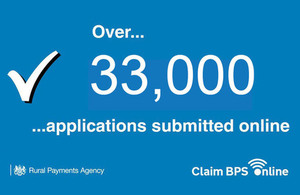 With around 61.5 percent of anticipated applications already submitted or in progress, the new online claim elements of the Rural Payments service are working well for tens of thousands.
Farmers are being asked to complete their application before the deadline, even if they are waiting for the balance of their 2015 payment or still have an outstanding query on 2015. All 2016 claims will be automatically updated with any verified changes in 2015 claims.
33,564 online 2016 BPS applications are submitted, more than 14,707 are showing as 'in progress' and the Agency has also received 5,833 completed paper forms. As well as online claims, over 401,267 hectares of land and 108,699 entitlements have also been transferred using new elements of the online Rural Payments service.
Thanks to all the year-one groundwork setting up the new system, including establishing scheme requirements and claimant data, 2016 claims can be processed and paid earlier in the payment window.
All farmers have now been paid their full or bridging payment under 2015 Basic Payment Scheme. Outstanding balances are being paid as soon as the details submitted in these most complex cases are verified.
An additional batch of payments this bank holiday means over 89.7 percent of farmers have had a full BPS payment, with an additional 7,492 having received bridging payments. This means all eligible farmers have now had a payment.
Chief Executive of the RPA Mark Grimshaw said:
We know that BPS money is hugely important to farmers so we want to give everyone all the help they need to make their 2016 claim on time. That is why we're geared up to help with extensive support available online at GOV.UK, over the phone and in person.

Our helpline people are working seven days a week answering calls and 14 support centres are available to help people claim online. People can drop-in during the week and we have plenty of appointments left for weekend visits.

We are urging people to apply using the Rural Payments service, but I want to reassure farmers that there is a paper option for those who need it.

The level of applications submitted or in progress means we are on track, with figures to date matching this stage in previous years. But we are never complacent and hundreds of RPA people are standing by to help farmers get their applications done and in on time.
As in previous years, any farmers with concerns about their BPS 2015 payment or claim details held by RPA should write or email. RPA will investigate any payment differences and make adjustments over the summer, through routine reconciliation.
Where there is flexibility under the scheme rules, the agency will use it for 2016 claims. Any adjustments made to 2015 payments and claim data will be transferred to the applicant's 2016 claim.
Key dates for BPS 2016
6 May – last day to email RPA to ask for land parcels to be added to online claims on the Rural Payments service.
9 May – last day to ask RPA for a paper form to make sure it's received by 12 May, giving applicants time to complete and submit it by 16 May.
16 May (midnight) – deadline to submit a claim before penalties apply.
Farmers can make changes to their claim submitted before 16 May, right up to 31 May without incurring any penalties.
Anyone who hasn't submitted a claim by midnight 16 May can still do so until midnight 10 June. Penalties will apply though and they will lose 1% of the value of their claim for every working day after the 16 May deadline their application arrives at RPA. For those looking to apply for new entitlements from the national reserve, the penalty rate will be 3%.
BPS 2016 support
RPA has a wide range of support features available to help remaining applicants submit their 2016 claims on time. These include 'Hints and Tips guidance, a new 'Hints and Tips' video, how to apply online guidance, a 24/7 automated service for applicants who have a paper application but want to apply online for first time, and the option for agents to speak directly to a dedicated team.
Updated 'Hints and Tips' document
RPA is taking the questions farmers and agents are asking as they apply for their 2016 BPS, and turning them into a regularly updated Hints and Tips document available at GOV.UK/rpa/bps2016.
Active farmer declaration
Anyone applying on paper is reminded to tick the 'active farmer' box before submitting their claim.
Adding land parcels to online claims
It's easy to add land parcels to online claims by emailing RPA. Farmers should mark their emails 'BPS 2016 add land' in the subject headline of their email to ruralpayments@defra.gsi.gov.uk
Online support centres
There are 14 online support centres listed on GOV.UK/rpa/bps2016. During the week it is possible to walk in between 9-5pm but appointments are necessary at the weekend. Check online for locations and opening hours. On 16 May – the last day for applying without penalty – they will be open until midnight.
Videos and on screen help
A range of helpful videos and documents designed to make the application process as easy as possible can be found on GOV.UK/rpa/bps2016. There's also a new 'hints and tips' video on the RPA YouTube channel. Other videos include advice on transferring land, transferring entitlements, changing land use and a general overview of how to apply online.
To make the online process easy to follow, step by step onscreen help is available and it's also on GOV.UK/rpa/bps2016 as a document to print.
Published 3 May 2016