Tsunami memorial opened in London
Monolith for victims of the 2004 Indian Ocean Tsunami made possible by DCMS grant.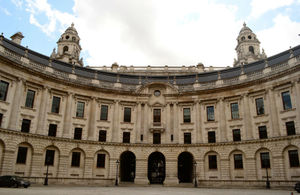 A memorial to the victims of the tsunami has been officially opened in the grounds of London's Natural History Museum.
It is the culmination of years of work by Tsunami Support UK and was made possible by a £550,000 grant from the Department for Culture, Media and Sport.
The Prince of Wales, The Duchess of Cornwall and Heritage Minister John Penrose were among those who attended the opening of the 115 tonne memorial, which was designed following extensive consultation with UK survivors and bereaved families.
Mr Penrose said: "The devastating impact of the tsunami in 2004 is something the world will never forget. This new memorial will be a focal point to remember the thousands of people who died, along with the dreadful impact this natural disaster had on the lives of so many.
"I'm pleased the families of those who lost loved ones and the survivors have been involved in every step of the process."
Further information
What we do: humanitarian assistance
Published 7 July 2011