Press release
Tower Hamlets progress but no powers returned – Greg Clark
Tower Hamlets council has made some progress, but still some way off the return of functions according to Communities Secretary Greg Clark.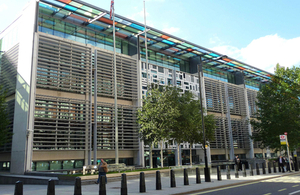 Tower Hamlets council has made some progress under the supervision of government appointed commissioners but is still some way off the return of functions according to Communities Secretary Greg Clark.
In a letter to the Mayor, Mr Clark welcomed the new desire to tackle "the root causes of the intervention" but cautioned that further evidence of a real long-term change for the better was needed before the intervention could end.
Communities Secretary Greg Clark said:
In Tower Hamlets independent inspectors found a worrying pattern of divisive community politics and serious mismanagement of taxpayers' money.

Intervention is never a decision taken lightly but it was essential that we took action to make sure public confidence in the council is restored.

Under the careful watch of the commissioners the Mayor is making progress but there must be sufficient evidence of real organisational change before I will consider handing any powers back.
No place for 'rotten boroughs'
In December 2014 the government appointed a team of commissioners until March 2017 to make sure that the council complies with its best value duty to taxpayers.
The commissioners' role is to:
oversee the council's improvement plan covering communications, contracting, property disposals to third parties, organisational cultural change
strengthen the council's core governance arrangements
take over the council's grant-making functions
exercise the council's functions of appointing an electoral registration officer and a returning officer for local elections
The latest 6 months progress report by the council showed some progress in a number of areas with:
improvement in grant functions because of improved transparency
significantly lower off-contract spend as proper procurement processes are now beginning to be put in place
steps taken to no longer undermine the local independent press with the council publication East End Life due to end by 18 May
Directions will only be in force for as long as necessary and whilst progress has been made, currently the commissioners and Mr Clark do not feel that the council is in position to take back more control.
Further information
After receiving documents which made serious allegations about poor governance and financial management at the London Borough of Tower Hamlets, in April 2014 the government announced an independent inspection.
PricewaterhouseCoopers was appointed but informed the government that the council was delaying their investigation through a failure to provide information on time or at all. Therefore the time taken to fully scrutinise the council was extended.
In November 2014 the inspection report painted a picture of a breakdown of democratic accountability and significant risk of misuse of public funds.
It showed amongst other serious failings that:
there was no effective monitoring
81% of all officer recommendations were rejected across mainstream grants
property was sold without proper process
taxpayers' money was spent on political advertising for the Mayor
Office address and general enquiries
2 Marsham Street
London
SW1P 4DF
Contact form http://forms.communiti...
General enquiries: please use this number if you are a member of the public 030 3444 0000
Published 12 April 2016