News story
Tornados ready to support humanitarian operations
The Royal Air Force has sent Tornado aircraft from RAF Marham to support humanitarian operations in Iraq if required.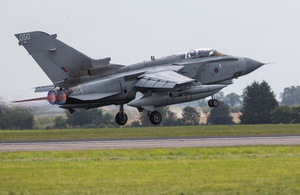 A small number of aircraft, fitted with state-of-the-art Litening III reconnaissance pods, left Norfolk this afternoon. They will be positioned in Cyprus, available to fly over the crisis area at short notice to provide vital intelligence to assist the delivery of UK aid.
So far, 3 consignments of aid, provided by the Department for International Development, have been delivered to the area by the RAF using Hercules aircraft.
The humanitarian aid drops by RAF C-130 aircraft, which took place early this morning, included nearly 9,000 5-litre water bottles and 816 solar lanterns.
Defence Secretary Michael Fallon said:
Thousands of innocent people suffering in northern Iraq urgently need our help. Tornado aircraft will be able to play a specialist surveillance role to give us a more complete picture of the situation in the crisis area.

I also want to express my gratitude to the aircrews and supporting personnel who have delivered 3 significant aid drops already and will continue to do so.
Published 12 August 2014