Press release
Suppliers asked to contribute to government's efficiency drive
As part of the deficit reduction programme, Francis Maude met with the CEOs of the biggest suppliers to government to discuss cutting costs.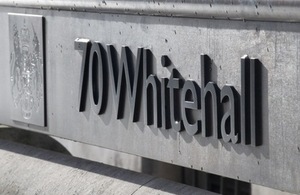 As part of the deficit reduction programme, the Minister for the Cabinet Office Francis Maude, has today met with the Chief Executive Officers (CEOs) of the nineteen biggest government suppliers to ask them what they can do to help cut the cost of the services they provide to government.
This event marks the start of the process to renegotiate key government contracts to release savings, a practice already used by many big UK businesses to drive down costs.  When it starts officially, the negotiation programme will cover majority of government's suppliers and will be conducted centrally for the top suppliers and via individual departments for the smaller ones. Contract renegotiation is the latest in a series of initiatives introduced by the recently created Efficiency and Reform Group (ERG), which is based in the Cabinet Office, to tackle the deficit, by achieving £6.2 billion of savings from government spending in 2010 to 2011.
Speaking about the meeting, Mr Maude, who co-chairs the Efficiency Board which oversees the work of the group, said:
Today's meeting demonstrates the importance and urgency the government is attaching to the efforts to reduce the deficit. Given the really difficult economic climate we now face, we have to do everything we can to deliver better value for money for taxpayers and that involves taking some tough decisions. I am laying down the challenge to major government suppliers to ask them what they can do to take costs out of contracts.

Some of this will come out of margins, but we will also invite ideas on how we can structure things differently to reduce complexity and cost. We will look to put into effect immediate savings and also create plans to further reduce costs in the medium to long term.
Notes to editors
The government has committed to make immediate savings of £6.2 billion. For further details on the government's efficiency and reform drive see http://www.hm-treasury.gov.uk  
The Efficiency and Reform Board, is chaired jointly by the Chief Secretary to the Treasury and the Minister for the Cabinet Office.
For press queries please call the Office of Government Commerce press office on 020 7271 1318.
Initial group of suppliers to meet the government:
Hewlett Packard
British Telecom
Capgemini
Fujitsu
Capita
IBM
Telereal Trillium
Atos Origin
CSC
Logica
Steria
Oracle
Siemens
IS
C&W
Microsoft
Accenture
Serco
G4S
Vodafone
Media enquiries
Out of hours 07074 667 000 (please note, this number cannot receive text messages)
Published 8 July 2010