Press release
Ticket buyers benefit from CMA action
Music lovers, sports fans and theatre goers using secondary ticket sites will have access to better information to help them know what they are buying, following action by the CMA.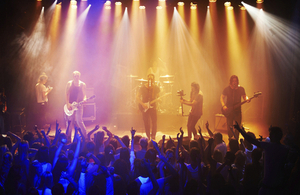 This Competition and Markets Authority (CMA) action has resulted in 4 of the largest UK secondary ticket platforms – GET ME IN!, Seatwave, StubHub and viagogo – giving undertakings to build upon their existing practices and give improved information to buyers about the tickets listed on their sites.
These include:
information on restrictions on entry and view that may apply to the ticket
whether or not multiple seats that are listed together are located together
whether there are any additional charges not included in the listed ticket price
the face value of the ticket, which may be different from the price the ticket is available for through the secondary ticketing platform
a contact email address for buyers to use if something goes wrong
In addition to agreeing undertakings with the 4 platforms, the CMA is also:
writing to other major ticket re-sale platforms and brokers to explain its expectations about their conduct and their obligations under consumer law
writing to businesses which re-sell tickets reminding them of their obligations under consumer protection legislation
producing a 60-second summary which offers an at-a-glance guide to buyers on what they can expect from businesses. Amongst other things, this emphasises that buyers should carefully check, before making a purchase, if:

there are any age-related restrictions on entry or restrictions on view
whether additional charges apply

using the slogan 'Re-sold tickets: what to look out for', creating and distributing a range of images driving home the rights consumers have when buying from secondary ticket platforms
Nisha Arora, CMA Senior Director, said:
A well-functioning secondary ticket market benefits fans by helping them to get tickets for events they want to see and by helping them when they can no longer make use of their tickets.

As a result of the CMA's action, and the constructive response of the major secondary ticket platforms, buyers will now have more of the key information they need before buying.

We want this rapidly evolving sector to continue to improve across the board so that fans can buy with more confidence. That is why we are also writing today to various businesses active in the sector to set out our expectations and why we are providing easy-to-use advice for buyers to help drive further improvements.

We also advise buyers to check carefully before they buy and only use those platforms which give them the information they need. They should make good use of that information, so that they know what they are getting when they buy.

Businesses that do not provide secondary ticket consumers with information they need to help them know what they are buying may find themselves subject to action under consumer protection law, including possible financial penalties from Trading Standards Services to drive future compliance.
During its investigation the CMA has liaised with the Advertising Standards Authority (ASA), which is also taking forward work in this sector, with the aim of further enhancing transparency for consumers. We support this work.
Shahriar Coupal (Advertising Standards Authority) said:
Hiding or omitting information about charges that consumers have to pay is not only misleading it's simply unfair. In tandem with the CMA, we've been working closely with the secondary ticket sector to help make sure it's clear and upfront about costs so that consumers get a fair deal and businesses play by the same rules.
Notes for editors
Secondary ticket platforms are a means by which individuals or businesses can resell tickets they have bought. This is often at a different price to the face value of the ticket, which is the price for which the ticket was originally purchased and which is usually the price printed on the ticket itself.
The full names of the 4 parties which have given undertakings to the CMA are: StubHub Europe s.a.r.l., Seatwave Ltd, viagogo AG and GET ME IN! Ltd. The undertakings apply to their operations in the United Kingdom.
The undertakings are intended to enhance and build upon existing practices by the 4 platforms to ensure that buyers on each of them have the key information they need before buying. In many instances, changes to reflect these undertakings have been made by the 4 platforms; the remaining changes will be made over the coming months.
The CMA is the UK's primary competition and consumer authority. It is an independent non-ministerial government department with responsibility for carrying out investigations into mergers, markets and the regulated industries and enforcing competition and consumer law. From 1 April 2014 it took over the functions of the Competition Commission and the competition and certain consumer functions of the Office of Fair Trading, as amended by the Enterprise and Regulatory Reform Act 2013.
The Consumer Rights Bill, currently at an advanced stage of its passage through Parliament, includes provisions which will introduce a new duty on secondary ticket platforms (or facilities as they are described in the Bill) to report criminal activity and will introduce financial penalties for secondary ticketing platforms and sellers who fail to provide information to buyers to help them know what they are getting. Local authority trading standards services in Great Britain and the Department of Enterprise, Trade and Investment in Northern Ireland will be responsible for enforcing these provisions and will have the power to impose financial penalties of up to £5,000 on sellers and secondary ticketing platforms who fail to comply.
The Advertising Standards Authority is the independent regulator of advertisements across all media in the UK. It does so in the public interest and with the co-operation of advertisers, agencies and media owners who are committed to observing the Advertising Codes. The ASA acts independently of both the government and the advertising industry.
Enquiries should be directed to Simon Belgard (simon.belgard@cma.gsi.gov.uk) on 020 3738 6472.
For more CMA updates see our homepage or follow us on Twitter @CMAgovuk, Flickr and LinkedIn. Sign up to our email alerts to receive updates on consumer enforcement cases.
Published 5 March 2015