'There are places I remember all my life'
John Lennon and Paul McCartney's childhood homes 'listed' by Heritage Minister John Penrose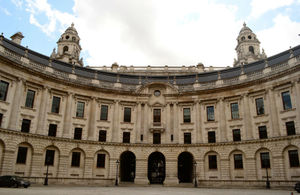 The childhood homes in Liverpool where Beatles John Lennon and Sir Paul McCartney grew up - and where they later rehearsed and wrote songs, including their first No.1 hit Please, Please Me - have been listed Grade II by Heritage and Tourism Minister John Penrose.
'Mendips', the 1930s semi-detached home where John Lennon lived for 17 years, and the terraced house in Forthlin Road where Sir Paul McCartney lived for nine years, have been listed on the advice of the Government's expert advisors English Heritage.  Both properties are currently owned and managed as visitor attractions by the National Trust.
Applications to list the childhood homes of the other Beatles, George Harrison and Ringo Starr, were turned down on the basis that they had been altered and modernised,  to such an extent, and had so little association with the group's early development, that they could not be regarded as listable.  An application to list the Gate piers and Gates (which are in fact replicas of the originals) to the former children's home Strawberry Fields was also turned down. The children's home itself was demolished some years ago.
During a visit to Liverpool today, John Penrose said:
"It's almost impossible to overestimate the significance that The Beatles had - and continue to have - on western life and culture since they first came together in the early 1960s. 
"These houses, unremarkable from the outside, have been painstakingly preserved and restored so that visitors today can get a real sense of how life must have been for the group as they were starting up.  They certainly merit the extra protection from demolition and development that listing provides, and will I hope continue to be places of pilgrimage for Beatles fans, young and old, for many years to come."
Emily Gee, Head of Designation at English Heritage said:
"We are delighted that the Minister has listed these two evocative houses where Lennon and McCartney developed their talents and created The Beatles. Listing celebrates special interest, and in the case of Mendips and 20 Forthlin Road they possess extraordinary historic and cultural interest for their strong connections with these renowned British musicians."
Notes to Editors
Copies of the English Heritage (EH) inspector's report along with photos of both properties are available from the EH press office on 0207 973 3250.
Press Enquiries: 020 7211 2210
Out of hours telephone pager no: 07699 751153
Public Enquiries: 020 7211 6000
Published 2 April 2012