There and back again: a Chinese Olympian's tale
Sixty-four years after he first set foot in the UK to play Olympic basketball for his country, Mr Wu Chengzhang has returned: and this time, it's personal.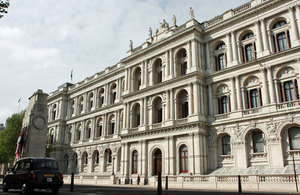 The eighty-eight year old former-athlete wrote to the British Ambassador in Beijing to express his desire to see his team play in London once more, and now he is joining forces with Ministers, athletes and well-wishers to promote the Games to the next generation.
In 1948 at the age of twenty-four, Mr Wu travelled to London as part of a thirty-three strong Chinese squad hoping for Gold. He scored thirty two points in one of his games against Iraq, setting a record for the highest personal score for one game.
His team only reached as far as the quarter-finals in 1948 but today, as he travels to London 2012's basketball arena to see Great Britain play China once more, he will be hoping that history does not repeat itself.
One man who will be hoping it does however will be Foreign Office Minister Jeremy Browne, who is today hosting Mr Wu at the Foreign Office's GREAT Pavilion. Taking the visitor on a tour of the area, which currently contains an Olympic exhibition including the 1948 torch, he said:
"I am delighted to welcome Mr Wu to London for the 2012 Olympics. As a great competitor from the London Games in 1948, I am pleased he will have the opportunity to watch the UK play China in basketball, 64 years since he played in the same fixture."
During his visit to London Mr Wu was also been reunited with one of the men who played against him all those years ago: British basketball player Lionel Price. Mr Price has been showing Mr Wu the sights and sounds of London, and how it has changed over the past six decades.
Following his Olympic career, Mr Price went on to become a furniture manufacturer and property developer in the UK before retiring in 2006. Mr Wu returned to China, where he played and coached basketball in his hometown of Shanghai until he retired. He is much respected in China as one of the country's last remaining 1948 Olympians.
Published 6 August 2012