Press release
Sussex flag of historic county flies at heart of government
The flag representing the historic county of Sussex flies above the department's offices to coincide with Sussex Day.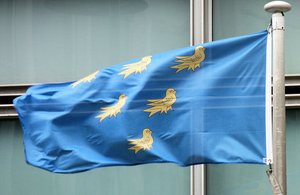 Local Government Secretary, Eric Pickles raised the flag of Sussex today (16 June 2014) outside his department's headquarters in Westminster as part of ongoing efforts to celebrate the important role historic counties play in the nation's cultural heritage.
England's traditional counties date back over a thousand years of history, but many of them have been sidelined by Whitehall and municipal bureaucrats in recent decades, including the municipal restructuring by Edward Heath's government in 1965 and 1972. By contrast, this government is championing local communities continuing to cherish and celebrate such traditional ties and community spirit.
Ministers have previously changed the law to make it easier to fly flags without a permit from the council - these new freedoms include flying the Sussex flag.
The flag was hoisted to mark Sussex Day, which falls on 16 June, the feast day of Saint Richard of Chichester who was Sussex's patron saint. It is believed miracles were created at Richard's tomb in Chichester Cathedral, which was a popular place of pilgrimage.
Eric Pickles, Secretary of State for Communities and Local Government, said:
We should fly our flags with pride. Today we celebrate Sussex, one of the Britain's most ancient kingdoms. Our historic counties have deep roots in the United Kingdom's cherished identity.

Whatever one's class, colour or creed we want to send a strong signal - we are stronger as a society when we celebrate the ties that bind us together.
Brady Ells, of the Sussex Association, said:
We are extremely proud that the Martlets of Sussex will once again be flown in the capital to mark our county day. It's the seventh year of Sussex Day and the third year of the Sussex flag, both of which have gained ever more popularity.
Facts about Sussex
The Kingdom of Sussex, according to legend was founded in 477 AD.
Sussex's motto 'We wunt be druv' means 'we will not be pushed around'.
Britain's oldest man is from Boxgrove - know as Boxgrove Man or Homo heidelbergensis, this pre-Neanderthal man was found in 1993 and was dated as half a million years old.
William Blake wrote 'Jerusalem' while living in a cottage at Felpham in the 1800s.
Gatwick used to be a racecourse between 1891 and 1940, even running the Grand National from 1916 to 1918.
The round-headed rampion, or Pride of Sussex, a deep blue wildflower is Sussex's county flower.
Brighton and Hove Albion Football fans sing Sussex by the Sea which is regarded as the unofficial anthem of the county.
Arundel Cathedral was built in 1868 and designed by Joseph Hansom - designer of the first taxi.
On the eve of the First World War's Battle of the Somme in 1916, the Royal Sussex Regiment took part in the Battle of the Boar's Head - it became known as The Day Sussex Died.
One lesser known legend claimed that King Harold did not die from an arrow in the eye at the Battle of Hastings, but escaped and became a hermit at Chester.
Further information
This is part of a series of steps to champion the United Kingdom's national identities. Earlier this year, the department launched a new initiative to support the 'tapestry' of traditional English counties being displayed on street and road signs. The government also published a new online interactive map of England's county boundaries.
Planning rules have been changed to allow for councils to put up boundary signs marking traditional counties of the United Kingdom - including the likes of Cumberland, Huntingdonshire, Westmorland and Middlesex. The government has proposed changes to highways regulations to allow traditional county names to appear on boundary road signs.
The government has previously changed Whitehall rules to allow local and county flags to be flown without planning permission, and supported the Flag Institute in encouraging a new wave of county and community flags to be designed and flown by local communities.
In line with flag flying protocol, the United Kingdom Union flag is flown in a superior position at all times.
Office address and general enquiries
2 Marsham Street
London
SW1P 4DF
Contact form http://forms.communiti...
General enquiries: please use this number if you are a member of the public 030 3444 0000
Published 16 June 2014