Press release
Support for housebuilding doubles
Support for new housebuilding has almost doubled in the past 4 years, new figures show.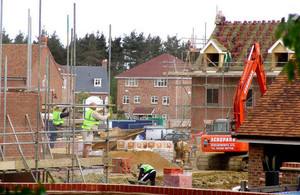 Housing Minister Brandon Lewis welcomed the latest results of the British Social Attitude survey, in which 56% of those questioned signalled their support for new housebuilding in their area – 28 points higher than in 2010.
Similarly, the numbers opposed to local housebuilding have more than halved during the same period, from 46% in 2010 to just over 1 in 5 today.
Today's (11 March 2015) figures also show strong backing for moves to support aspiring homeowners looking to buy their first home.
Housing Minister Brandon Lewis said:
In 2010 we inherited a housing market in which local people felt powerless in the face of Whitehall targets dictating the future development of their neighbourhoods.

Since putting the power back in the hands of communities, support for local housebuilding has soared, while opposition to new homes has almost halved.

It's meant 240,000 homes were granted planning permission in the year to October, while our measures to help aspiring homeowners mean pressure on the Bank of Mum and Dad is easing and the number of first-time buyers is at a 7-year high.
Support for new homes and new homeowners
Housebuilding and efforts to help aspiring homeowners are central to the government's long-term economic plan.
Over the past year, housing starts have increased by 10%, while the numbers of first-time buyers are at their highest for 7 years.
Since 2010 the government has scrapped top-down targets that pitted neighbours against developers, and replaced them with locally-led development through local and neighbourhood plans.
Councils have also received over £3.4 billion in New Homes Bonus payments to reward communities for building new homes.
And in the year to October, planning permission has been granted on 240,000 new homes across the country.
Today's figures show that those strongly supporting new housebuilding in their area has tripled, from 5% in 2010 to 16% in 2014, while strong opposition has fallen by nearly a third over the same period.
The figures also show strong support for efforts to help aspiring homeowners, with 38% of those surveyed citing financial support for first-time buyers as the best thing the government can do to make homes more affordable.
To date, the Help to Buy scheme has helped over 88,000 households to buy with a fraction of the deposit they would normally require.
And the new Starter Homes initiative will also enable young first-time buyers to purchase a newly-built home with a 20% discount.
Another 27% backed moves to allocate funding to councils and housing associations to build more homes – since 2010, nearly 217,000 affordable homes have been delivered while council housebuilding starts are at a 23-year high.
Office address and general enquiries
2 Marsham Street
London
SW1P 4DF
Contact form http://forms.communiti...
General enquiries: please use this number if you are a member of the public 030 3444 0000
Published 11 March 2015