Stratford Upon Avon's 'nationally important' Sixties Shakespeare Centre is listed by Tourism and Heritage Minister John Penrose
The Shakespeare Centre in Stratford Upon Avon has been listed today at grade II by Tourism and Heritage Minister John Penrose.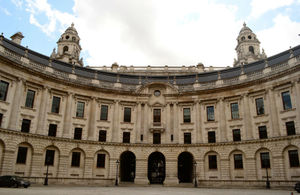 The Centre, designed by Laurence Williams and built in the early 1960s, is almost completely unaltered since its completion and continues to function in its original use. The minister's decision follows expert advice from English Heritage and the Commission for Architecture and the Built Environment.
Grade II listing means that the architectural merit of the building must be taken account of in any future applications to develop the site.
John Penrose has also today listed the early 20th century Lodge, Gates, Gate piers and Walling at the University of Birmingham at grade II, and declined to list the former Music School at Sherborne School for Boys. Both decisions are also on the basis of advice from English Heritage.
John Penrose said:
"The Shakespeare Centre is a building of both national importance and special interest, with a number of attractive embellishments and features. It clearly merits the extra protection against unsuitable alteration or development that listing provides.
"I am also listing the buildings at the southern entrance to Birmingham University, England's first campus university. This group is of clear architectural quality with added historic interest and, because it has remained largely intact for more than a century, notable group value.
"Listing a building does not, of course, guarantee that it will remain intact and unaltered for all time. But it does ensure that its special architectural and historic interest are properly considered, if and when proposals come forward to alter or redevelop it."
Notes to Editors
Copies of the decision letters in each case are available from the DCMS press office on the number below.
Press Enquiries: 020 7211 2210
Out of hours telephone pager no: 07699 751153
Public Enquiries: 020 7211 6000
Published 28 October 2010