Press release
St Hilda's to enjoy a bat-free Christmas
A Natural England project has helped St Hilda's church in North Yorkshire enjoy a bat-free Christmas.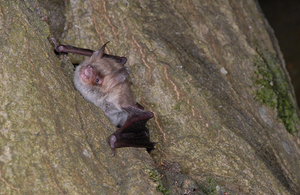 For the first time in years, the congregation of St Hilda's Church will enjoy 'Carols by Candlelight' without disturbance from their resident bats.
Bats are still using the Saxon church to roost and breed, but works to exclude them from the interior have finished, meaning the festive carol service on Wednesday 17 December will take place bat-free.
The small church on the fringes of the North York Moors National Park is home to a large number of Natterer's bats, which were creating widespread mess with their droppings and urine when flying within the church.
Natural England has worked closely with St Hilda's church over many years to manage the problems caused by bats. An extensive research project began in 2013 to gather data about how bats were using the church, with radio tracking revealing their dependency on it for breeding purposes. Roost locations within the fabric of the building were identified, with data confirming that the well-being of the young was not dependent on bats flying inside the church.
Works to exclude the bats from the church interior began after the 2013 breeding season, and progress was monitored closely over the spring and summer months this year. Results confirmed that the same numbers of bats – and in many cases the same, ringed individuals – were returning to the church to breed. Monitoring will continue at St Hilda's for at least another 4 years, to ensure the bat population continues to thrive and the solutions remain effective.
Although bats are common residents in many churches, the problems faced by St Hilda's were exceptional. The surrounding landscape provides excellent bat habitat, supporting a large population, and the church's small size magnifies the impact of that population on its interior.
Natural England is currently working with partners to identify funding for similar projects in other churches also encountering significant problems with bats.
Natural England senior adviser, Stephen Rudd, said:
We know it has been a long and drawn out process for St Hilda's and appreciate their patience whilst we have worked to find a lasting solution to this issue. The works and research carried out at St Hilda's have taught us a great deal about the importance of such structures to local bat populations and how they can be proofed so that bats and congregations can co-exist in harmony.

If we are successful in attracting funding, then we hope to fund similar solutions for other churches which they would not otherwise be able to afford.
Background
The research project at St Hilda's was carried out by the Animal and Plant Health Agency under contract from Natural England.
The bid to fund similar projects is being developed in partnership with English Heritage; Church Buildings Council; Churches Conservation Trust; National Trust and Bat Conservation Trust.
Bats and their habitats have had a high level of protection under British law since 1981. Deliberately capturing, disturbing, injuring and killing bats is prohibited, as is damaging or destroying their breeding sites and roosts. Licences to undertake otherwise prohibited activities are issued by Natural England.
Published 17 December 2014