Press release
Spread of multi drug resistant TB limited to high-risk groups in the UK
PHE highlights the importance of genetic strain typing of multi drug resistant tuberculosis (MDR-TB) to increase case identification.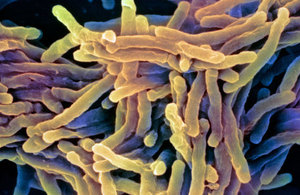 MDR-TB most commonly spreads between people born in the UK who have a history of drug use, or within specific ethnic communities, according to a new study from Public Health England (PHE) published in The Lancet Infectious Diseases today, 4 March 2014.
The study examined the genetic code of the MDR-TB bacteria, using the MIRU-VNTR* typing method, from every patient diagnosed between 2004 to 2007 in order to see which cases were genuinely associated with one another through person-to-person spread and which were sporadic. Of all the MDR-TB cases diagnosed in the UK in this period, 12 separate cluster groups were identified.
Cases of MDR-TB have increased over the last 12 years from 28 cases per year in 2000 to 81 cases in 2012. The total number of patients diagnosed with MDR-TB between 2000 and 2012 is 681.
MDR-TB is when the TB bacteria fails to respond to a combination of 2 of the 4 main antibiotics used to treat the infection. Patients usually acquire drug resistant disease either as a result of spread of a drug resistant strain from another person or as a result of inappropriate or incomplete treatment.
Lead author Dr Laura Anderson, a senior TB scientist at PHE, said:
Transmission of MDR-TB in the UK is extremely low but our study found that where it does occur it is mainly in the household and is associated with being UK-born and drug use or within specific communities. It tends to spread within communities who share ethnicity or social risk factors, like drug use, rather than spreading outside their specific ethnic or social groups.

One of the key findings from this study was that most household contacts, identified as being part of a cluster of MDR-TB, had not been identified during contact tracing. Contact tracing is a widely used approach for TB control whereby health practitioners assess any close contacts of a confirmed case to check whether transmission has occurred. It transpired from this study that individuals diagnosed with MDR-TB were not always providing the full information of all their close contacts so cases were going undiagnosed even though they had lived in the same household. Although this accounts for only a small number of individuals - 21 in total - a delay in diagnosis of MDR-TB can be serious as it may reduce the likelihood of treatment success and increases the chance that further individuals will become infected. This study demonstrates the need for routine genetic analysis to occur alongside standard TB control measures in order to ensure no stone is un-turned when identifying cases. It also highlights the limitations with traditional name based identification of contacts and suggests that using a different approach, such as a dedicated community based outreach service, may be more successful.
Ibrahim Abubakar, head of TB at PHE and Professor of Infectious Disease Epidemiology at UCL, said:
The increase in drug resistant cases which we are observing year on year in the UK remains a big concern and a priority for PHE.

MDR-TB continues to disproportionately affect those in hard-to-reach and vulnerable groups. In order to reduce TB cases in the future, it's very important that health commissioners, especially in parts of the country with the highest rates of TB, prioritise the delivery of appropriate clinical and public health TB services.
Ends
Notes to editors:
Dr Laura F Anderson et al, Transmission of multidrug-resistant tuberculosis in the UK: a cross-sectional molecular and epidemiological study of clustering and contact tracing. The Lancet Infectious Diseases, Early Online Publication, 4 March 2014.

*Mycobacterial Interspersed Repetitive Units (MIRU) Variable Number of Tandem Repeats (VNTR)

TB is an infection caused by bacteria. It usually affects the lungs, but can affect other parts of the body. TB is transmitted when someone who has the infection coughs or sneezes, but it requires close prolonged contact in order to spread from person to person. More information about tuberculosis is available.

Public Health England's mission is to protect and improve the nation's health and to address inequalities through working with national and local government, the NHS, industry and the voluntary and community sector. PHE is an operationally autonomous executive agency of the Department of Health. Follow us on Twitter: @PHE_uk and Facebook: www.facebook.com/PublicHealthEngland.
Infections press office
PHE press office, infections
61 Colindale Avenue
London
NW9 5EQ
Published 4 March 2014