"South East Asia is the engine for economic growth in the world"
Foreign Office Minister Jeremy Browne visits Thailand, Cambodia, Vietnam and Hong Kong.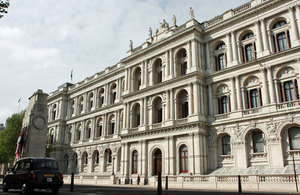 As Britain's engagement with Asia moves to a new level, Foreign Office Minister for South East Asia Jeremy Browne will be continuing the UK's unprecedented engagement with the region this year by visiting Thailand, Cambodia, Vietnam and Hong Kong.
Mr Browne said:
"The UK exports more to ASEAN members than we do to China. They are key partners to securing Britain's prosperity and as world-leader in education, low carbon technology and financial services we are determined to build on that partnership over the next five years.
"Business development and civil rights go hand in hand and it is good to see that many ASEAN countries are reaching turning points in their domestic and international political development. We will be encouraging these emerging powers to realise their potential as strong forces for good on the international stage, as they tackle challenges at home concerning governance, corruption and human rights.
"The London Olympics begin this month and I wish to extend the UK's welcome to athletes from Thailand, Cambodia, Vietnam and Hong Kong who will be competing this summer."
In Thailand, where the UK is the leading EU investor, Mr Browne will meet the deputy PM; in Cambodia, where preparations for ASEAN's Annual Regional Forum are underway, he will meet the Prime Minister and deliver a key note speech on regional power; in Vietnam he will take forward a formal 'action plan' for co-operation; and in Hong Kong he will make a speech on Business and Human Rights, have a chance to meet the newly elected administration, and meet Olympic and Paralympic athletes.
Published 2 July 2012