Somalia: Aid for refugees who fled famine and fighting
Britain will provide medical help, food and sanitation for hundreds of thousands of Somalis over the next three years.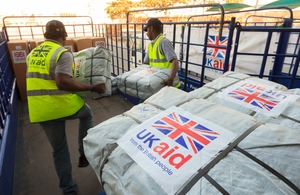 The UK will provide a comprehensive package of assistance including healthcare, nutritional and sanitation assistance for those forced to flee the food crisis and fighting, finding refuge in neighbouring Kenya and Ethiopia.
In Kenya, UK aid will help 150,000 refugees per year over the next three years. In Ethiopia, Britain will reach 100,000 refugees every year up to 2015.
In addition to helping those who have fled the country, the UK has also committed to further emergency humanitarian assistance which will help over 1 million people within Somalia over the next year. This includes vital supplies and services such as food, clean water, healthcare and seeds and fertilisers.
The new package of support was announced at the start of the London Conference on Somalia taking place today. The summit is bringing together senior representatives from over 40 governments and global organisations. The gathering is intended to deliver a new international approach to Somalia.
At a meeting ahead of the conference this morning, Development Secretary Andrew Mitchell met with representatives from around the globe to focus on the ongoing humanitarian needs of the Somali people.
During the session, delegates raised grave concerns that over 2 million people remain in crisis across the country. They also highlighted the growing number of Somali refugees in the region, which now totals almost 1 million.
Beyond immediate humanitarian needs, attendees called on the international community to help Somalis build up their ability to cope with disasters in the future. This long term support would focus on putting basic services in to place as well as providing the means for ordinary Somalis to make a living.
The latest aid announced by Britain today comes after the set up of a new Stability Fund for Somalia - led by the UK - to help create jobs, agree local peace deals and set up basic services in areas where there is less fighting.
International Development Secretary Andrew Mitchell said:
Over the last year I've met Somalis in camps in Mogadishu and border areas who have known nothing but war, hunger and extreme poverty.

Britain provided thousands of tonnes of food, water and medicine to help meet people's basic needs and that help will continue.

But this conference gives us a chance to do much more by breaking the cycle of instability and agreeing a practical way forward that will improve things in the longer-term.
Over the last year, emergency British aid in Somalia helped to save 750,000 lives, following the famine which struck two separate regions of the country.
Across the country UK has provided relief assistance to more than a million victims of the drought including food and nutritional assistance to 300,000 people, vaccinations for over 1.3 million children for measles, and safe drinking water for more than 75,000 people.
Published 23 February 2012