Press release
Social entrepreneurs urged to apply for PowerUP scheme to help address gang culture
Two Cabinet Office funded schemes will help social entrepreneurs create positive social change across London, the South East and Liverpool.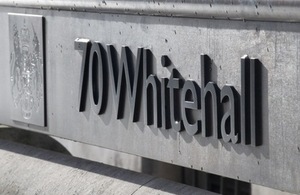 Minister for Civil Society Rob Wilson launched the schemes for potential social entrepreneurs who have been affected by gang culture or are from disadvantaged backgrounds, or for those who are committed to reforming these lives.
PowerUP Liverpool
PowerUP Liverpool will provide a life-changing opportunity for at least 10 Liverpool City Region-based social entrepreneurs who are looking to start a new social business.
Young people aged 18 and over from the Liverpool City Region who have been affected by gang culture are eligible to apply by 30 April 2015. The scheme is also open to social entrepreneurs of all ages who are leading social businesses that support young people affected by gang culture.
PowerUP London and the South East
Similarly PowerUP London will provide support for 10 budding social entrepreneurs across London and the South East who want to develop their existing social enterprise. Applications for PowerUP London and the South East are also open until 30 April 2015.
Shortlisted candidates will have the opportunity to pitch their idea to a Dragons Den-style selection panel the week commencing 11 May. Their business ideas may be commercial, but should focus on supporting young people affected by gang culture or addressing a need within their community.
Successful applicants for both schemes will receive a place on a 9-month course at The School for Social Entrepreneurs fully funded by the Cabinet Office and a business mentor from Lloyds Banking Group.
Rob Wilson, Minister for Civil Society, said:
We have a long term economic plan that will help to create opportunities for young people across the Liverpool City Region and in London and the South East.

I know from personal experience the challenges of setting up a business and I want to help young people who have been in gangs to change their lives for the better, which is why I am proud to be launching this unique campaign today.

PowerUP will support twenty social entrepreneurs to start their social businesses, make money and improve their community.

I am excited to be partnering with Lloyds Banking Group and School for Social Entrepreneurs and I encourage young people to apply and take the opportunity to get out of the grips of gang culture.
Alastair Wilson, CEO of the School for Social Entrepreneurs said:
We know that the most innovative solutions to pressing social issues- such as gang culture- often come from those who are living within the communities most affected or have first-hand experience of the issue they are looking to tackle. We're excited to launch PowerUP, as we can now support twenty more social entrepreneurs to start a social businesses and develop sustainable solutions to the issues facing today's youth.
Annette Barnes, North Ambassador for Lloyds Banking Group, said:
We are delighted to expand our support of social entrepreneurs through the PowerUP programme. Our existing Social Entrepreneurs programme already supports nearly 300 social entrepreneurs across Britain each year, providing grants and access to learning support and a mentoring scheme.

The PowerUP campaign allows us to contribute further, helping young social entrepreneurs across Liverpool to make a real difference in their communities further illustrating our commitment to helping Britain prosper.
Published 25 March 2015