News story
Social enterprises: export the good you do as well as the goods you produce
Government joins with Social Enterprise UK to highlight the support available for British social enterprises to export during Export Week.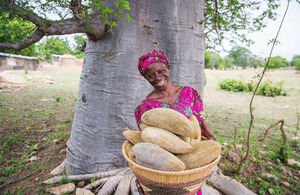 According to figures in Social Enterprise UK's State of Social Enterprise report, the social enterprise export market is growing. The number of social enterprises that export goods or services grew to 14% in 2015. This is more than the 11% of UK businesses that export regularly.
We want to see even more social enterprises get involved, by exporting their products and furthering their social and environmental missions worldwide.
Exporting is GREAT for social enterprises
This week the government is launching Exporting is GREAT, the UK's most ambitious exporting campaign ever. The campaign aims to inspire and support 100,000 new British exporters, including social enterprises, to sell their goods and services overseas by 2020.
The new website, exportingisgreat.gov.uk, provides a one-stop-shop for small businesses of all types to start exporting. It features hundreds of live business opportunities from around the world that social enterprises can apply for. It also provides links to training sessions, business seminars and other events, as well as specialist trade services and support.
Rob Wilson, Minister for Civil Society, said:
Right now, there are UK social enterprises selling everything from coffee and chocolate to handbags and makeup around the world. In many nations, buying British is a mark of quality, innovation and excellence, especially in socially responsible business where we are a world leader.

I believe there is no limit to what UK social enterprises can achieve internationally – both in terms of the good they do as well the goods they produce, so I challenge them to get out there and show the world what they can do.
Peter Holbrook CBE, Chief Executive of Social Enterprise UK, said:
The UK is a global leader when it comes to social enterprise and it is great to see UK social enterprises exporting their products and ideas abroad – increasing their social impact and helping address pressing global issues. Social Enterprise UK already hosts international delegations to highlight the work of UK social enterprises and helps organise events such as the Social Enterprise World Forum, so we welcome the Cabinet Office and UK Trade & Investment's focus on social enterprises as part of this new exporting push.
Image: copyright Aduna.
Published 11 November 2015