Sixteen London tube stations become listed buildings
Heritage Minister John Penrose protects Capital's 'hidden heritage'.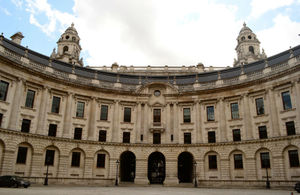 Oxford Circus and Covent Garden are among 16 Underground stations given Grade II listed status today by Heritage Minister John Penrose, on the advice of English Heritage.
They include several of the tube stations designed by Leslie Green whose 'ox-blood' red tile facades, pioneered the use of a strong and consistent corporate image which is recognised around the world.  All the stations have historic and architectural significance, illustrating the development of the capital's Underground system.
The stations given Grade II status are:
Aldwych, Belsize Park, Brent Cross, Caledonian Road, Chalk Farm, Chesham, Covent Garden, Hendon Central, Oxford Circus - originally two separate stations (on  the north-west corner of Argyll St and Oxford Street, and the north-east corner of Argyll St and Oxford Street including the office above), Perivale, Redbridge, Russell Square, St John's Wood, West Acton, and Wood Green.
Three other stations have had their listing upgraded from Grade II to Grade II* they are:
Arnos Grove, Oakwood, and Sudbury Town, all designed by the distinguished modernist architect Charles Holden, for the Piccadilly Line extension in the 1930s.
John Penrose said: "Millions of people pass through London's Underground system every day, with little thought for the historic design and architectural features that are right under their nose as they hurry underground to catch their trains.  Tube stations are great examples of the capital's hidden heritage.  It's testament to the forward thinking and creativity of the design of Leslie Green and Charles Tyson Yerkes who created the original Underground Electric Railways that the brand and image of the red facades remain iconic.
"Although listing does not mean these stations will remain unchanged for all time, it does mean that any redevelopment plans will have to take the sites' heritage value into account, which seems entirely right and will ensure the best of design is preserved for the future."
Simon Thurley, Chief Executive of English Heritage said: "The London Underground not only set the standard for progressive transport systems, but has displayed a remarkable commitment to quality and consistency of design.  The stations awarded listed status today are as valuable to London's architectural story as many more famous buildings like the Houses of Parliament. From the distinctive and instantly recognisable glazed red façades of the early 20th century stations such as Belsize Park and Russell Square, to the Modernist designs embodied in Arnos Grove and Sudbury Town, we have been left an amazing architectural inheritance.  It is absolutely right that these stations be afforded the recognition and protection provided by listing."
Richard Parry, Commercial and Strategy Director for London Underground, said: "Heritage is a very important part of our identity at London Underground. The Tube is undergoing a huge upgrade to its ageing infrastructure to cope with increasing demand, however whenever we modernise a station we make sure that we take care of the historical features for our customers to enjoy.
"This might include restoring the original antique tiling or maintaining the much-loved lamps and elegant clocks at stations while at the same time installing the latest CCTV or digital display boards."
Notes to Editors
A copy of the expert advice from English Heritage which includes details of the stations is available from the English Heritage Press Office on 0207 973 3250.

Oxford Circus counts as two listings because they were originally two separate buildings.

Images of some of the stations available online and further images are available from Candice Jones, TfL Press Office on 020 7126 4883.
Press Enquiries: 020 7211 2210
Out of hours telephone pager no: 07699 751153
Public Enquiries: 020 7211 6000
Published 26 July 2011