Press release
Simpler guidance on regulation means less bureaucracy for childcare providers
Childcare businesses will benefit from clearer and simpler guidance following a review of how regulations governing the sector are enforced.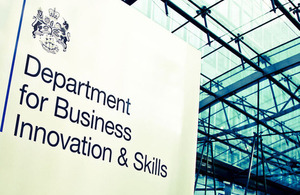 Childcare businesses will benefit from clearer and simpler guidance following a government review of how regulations governing the sector are enforced. Less confusing and bureaucratic advice on how to meet regulatory requirements will enable providers to focus more clearly on maintaining standards and safety.
The Focus on Enforcement review asked childcare providers to comment on the effectiveness of regulatory enforcement and to specify how it might be improved to help them comply with the law.
Action taken following the consultation addresses concerns that some smaller providers found guidance too long and hard to understand; that inspections were sometimes inconsistent and inaccurate; that some providers felt unable to challenge findings of an inspection; and that there was confusion around boundaries between different regulators and a shortage of accessible advice on how to comply.
In response to the review, Ofsted has:
reduced the volume of all its website guidance relating to childcare by a quarter
clarified that the only mandatory reading for childcare providers is the 'Guide to Registration on the Early Years Register' and 'Preparing for your Registration Visit' - and shortened the total length of these from 93 to just 33 pages. Before the review, many providers reported that they believed that they were required to read all guidance on Ofsted's website, of which the review team found there to be 1,100 pages. The new guidance was uploaded on Ofsted's improved website in March 2014
clarified that the guidance on the Ofsted website for inspectors is for their information, rather than mandatory reading for childminders themselves
strengthened its guidance to providers on preparing for their inspection, so that they are clear about how to raise concerns
provided further training for inspectors on checking accuracy and making consistent judgements
Nick Hudson, Ofsted Early Years Director, said:
We want to help nurseries and other early years providers focus on what matters: providing a safe environment for young children in which they can learn and develop, and preparing them well so that they are ready for school. That's why we have clarified essential guidance so that early years professionals can see what really matters. I am confident that this will help early years staff get on with doing their jobs. If they have any requests for clarification then we will be happy to help.
Liz Bayam, Chief Executive of PACEY (Professional Association for Childcare & Early Years) said:
PACEY members value their regulation and inspection by Ofsted. It plays a vital role in supporting parents' confidence to leave their child in a childcare setting. As Ofsted is increasingly positioned as the sole arbiter of quality, this will be ever more so. It is good to see the steps Ofsted is now taking, as a result of the Focus on Enforcement review of the childcare sector, to make guidance more accessible, to improve advice to providers on preparing for inspection and to further train its inspectors. Now Ofsted is in more open dialogue with the sector, it can ensure remaining concerns are addressed in the coming months. Everyone working in childcare and early years wants the same thing - high quality care for children. By working with the sector Ofsted has the best chance of achieving this for our youngest children.
The findings from the Focus on Enforcement review of the pubs sector have also been published today (15 May 2014), together with a response from the Home Office.
Notes to editors
There were 44 responses to the childcare review, which ran from February to May 2013.

Focus on Enforcement reviews examine how regulation is delivered – whether through inspections, advice, and enforcement – rather than focusing on the design of the regulations themselves. For more information, including previous reviews and what they have achieved, visit the Focus on Enforcement website.

On 10 March 2014 Business Minister Michael Fallon invited industry bodies to bid to help run a Business Focus on Enforcement Review - a new phase of the programme. This will allow industry groups such as trade associations to lead reviews into regulatory enforcement in their sectors and present the case for change directly to regulators and Ministers. For more information about the process and to access more information, visit Business Focus on Enforcement

Government action to reduce and reform regulations themselves – including through the Red Tape Challenge and the One-in, Two-out rule, is saving businesses over £1.2 billion annually.
Published 15 May 2014