News story
Personnel in Cyprus assist in aid air drops
The Defence Secretary has thanked British service personnel and civilians in Cyprus for their efforts in the humanitarian mission in Iraq.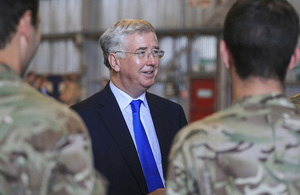 In a visit that took in various bases in Cyprus , including RAF Akrotiri, Defence Secretary Michael Fallon thanked British military and civilian personnel for their hard work in providing humanitarian aid to the people in northern Iraq.
During the visit he met members of the RAF's Expeditionary Air Wing, including many recently deployed in support of the humanitarian aid effort. He also met with soldiers of 47 Air Despatch Squadron, Royal Logistic Corps, the army unit responsible for preparing air pallets for delivery.
UK humanitarian aid air drops have been run out of Akrotiri, as have surveillance flights.
During his visit the Defence Secretary said:
Our military personnel in Cyprus have saved lives this week by delivering much needed supplies in Iraq. Today I met the crews and staff on the base. Britain should be exceptionally proud of their tireless efforts.
Also supporting the humanitarian mission is the recent deployment of the Rivet Joint intelligence-gathering aircraft, providing operational and tactical-level intelligence.
Rivet Joint has helped to build an understanding of the humanitarian situation in northern Iraq and the associated threat of the Islamic State of Iraq and the Levant.
The intelligence and insight it has provided has guided the UK's humanitarian efforts to give a more accurate picture of what is happening on the ground so that aid is delivered to the Yazidi people in the most effective way.
Published 16 August 2014