Press release
Second high-level UK-China security dialogue: February 2017
The National Security Adviser and Secretary-General Wang agreed various measures to strengthen UK-China security co-operation.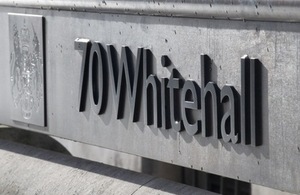 On 17 February, Sir Mark Lyall Grant, National Security Adviser, hosted Wang Yongqing, Secretary-General of the Central Commission for Politics and Law, for the second UK-China High Level Security Dialogue.
The dialogue covered a wide range of security issues including cyber; counter-terrorism; and organised crime. The two delegations also held a detailed exchange of views on pressing global security challenges, including the situation in Syria and the importance of implementing UN Security Council Resolutions on the Democratic People's Republic of Korea (DPRK).
During the dialogue, the National Security Adviser and Secretary-General Wang agreed various measures aimed at strengthening UK and China security cooperation.
These included an agreement to combat modern slavery and sharing experiences on how best to support victims; detailed exchanges on dealing with Foreign Terrorist Fighters; agreement to more frequent bilateral exchanges on Aviation Security; and our expanded mechanisms on Cyber Security agreed at the first Security Dialogue.
China also agreed to consider joining the We Protect Global Alliance.
The National Security Adviser and Secretary-General Wang agreed that a next round of high-level talks should take place in Beijing in approximately twelve months time.
Speaking after the dialogue, Sir Mark Lyall Grant said:
Security cooperation with China is an important part of our global partnership and is in both countries national interest.

Secretary-General Wang and I agreed to strengthen UK-China cooperation in a number of priority areas, including on aviation security and on combating modern slavery. We also agreed that the UK and China should work together more closely to identify and tackle terrorist threats to our nationals in third countries.
We discussed a number of important global and regional issues. We agreed that the UK and China would continue to strengthen our joint efforts in support of peace in stability in Afghanistan.

We also agreed to regular coordination on cyber security-related issues in order to prevent cyber commercial espionage and related transnational criminal activity. I welcomed China's openness to signing-up to the WeProtect global alliance on preventing child sexual exploitation online.
Published 17 February 2017