Schools white paper published
Education Secretary Michael Gove outlines radical reforms for schools and teachers proposed in 'The importance of teaching'.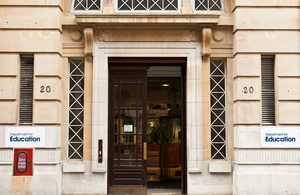 A radical reform programme that puts teachers at the heart of school improvement and frees schools from central government direction was published today by Education Secretary Michael Gove.
Michael Gove introduces the schools White Paper
The schools white paper, 'The Importance of Teaching', draws heavily on the evidence learnt from the world's best education systems and will see heads and teachers driving school improvement.
The Importance of Teaching explains that schools will be freed from centralised bureaucracy and endless government interference, in return for greater accountability to parents and local communities.
It puts teachers and heads first so that they are freed up to do what they do best - teach. It underlines how we will raise the prestige of their profession by strengthening the quality of new teachers and how we will transform the quality of initial training and continuing professional development. And it commits government to cutting away unnecessary duties, processes, guidance and requirements.
The white paper also sets out
powers for teachers to improve discipline in the classroom
a vision for a transformed school curriculum
the reform of school performance tables
a pupil premium to channel more money to the most deprived children, and
plans to develop a fairer and more transparent funding system.
Education Secretary Michael Gove said:
Many other countries in the world are improving their schools faster than us and have smaller gaps between the achievements of rich and poor. The very best performing education systems have a rigorous focus on high standards, a determination to narrow attainment gaps and have stretching curricula. The countries that come out top of international studies into educational performance recognise that the most crucial factor in determining how well children do at school is the quality of their teachers.
The best education systems draw their teachers from among the top graduates and train them rigorously, focusing on classroom practice. They recognise that it is teachers' knowledge, intellectual depth and love of their subject which stimulates the imagination of children and allows them to flourish and succeed.
But for too long in our country, teachers and heads have been hamstrung by bureaucracy and left without real support.
It's shocking that the latest figures show that only 40 of the 80,000 children in England eligible for free school meals secured places at Oxford or Cambridge. That's a scandal.
That's why the coalition government plans to recruit more great people into teaching, train our existing teachers better and free them from bureaucracy and Whitehall control.
We are putting teachers in the driving seat of school improvement and we are setting out changes that will make schools more accountable to their communities and their parents.
The Prime Minister, David Cameron, said:
These radical proposals will give teachers both the freedom and the authority in the classroom that's needed if we are to realise our ambition to drive up standards, improve discipline and behaviour and deliver the world class education that our children deserve.
The Deputy Prime Minister, Nick Clegg, said:
Every child deserves a fair chance in life, whatever their background.

Our pupil premium will directly target additional money at the poorest pupils in our society, wherever they live.

Schools, heads and teachers will be allowed to decide how they teach and support their pupils, while good teachers in every school will be given the chance to innovate and improve.
Download the schools White Paper from this page.
 Notes to editors
DfE enquiries
Central newsdesk - for journalists 020 7783 8300
General enquiries - for members of the public 0370 000 2288
Published 24 November 2010