Same sex marriage becomes law
First same sex wedding to be held by summer 2014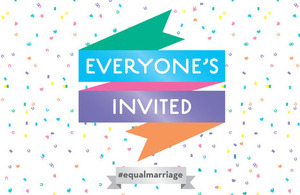 The Marriage (Same Sex Couples) Bill completed its historic journey through Parliament by receiving Royal Assent today, officially making it law. Women and Equalities Minister Maria Miller also announced that the first same sex wedding could take place by as early as summer 2014.
What the Act will do
The Act, which applies to England and Wales, will:
allow same sex couples to marry in civil ceremonies
allow same sex couples to marry in religious ceremonies, where the religious organisation has 'opted in' to conduct such ceremonies and the minister of religion agrees
protect those religious organisations and their representatives who don't wish to conduct marriages of same sex couples from successful legal challenge
enable civil partners to convert their partnership to a marriage, if they wish
enable married individuals to change their legal gender without having to end their marriage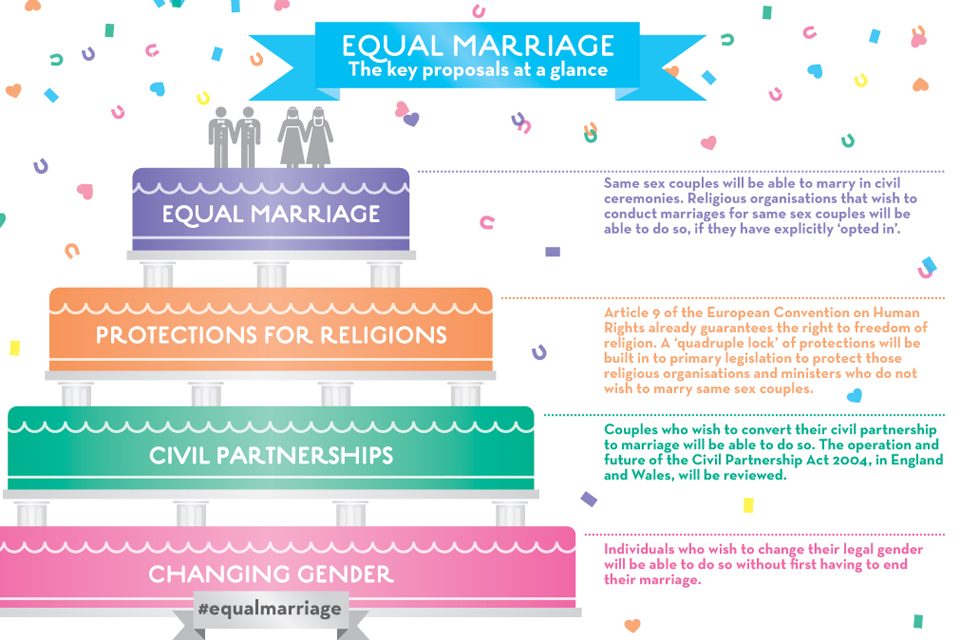 View a full-size version of this graphic on flickr
"The bedrock of our society"
Women and Equalities Minister, Maria Miller said:
Marriage is the bedrock of our society and now irrespective of sexuality everyone in British society can make that commitment. It is a wonderful achievement and whilst this legislation may be about marriage, its impact is so much wider. Making marriage available to all couples demonstrates our society's respect for all individuals regardless of their sexuality. It demonstrates the importance we attach to being able to live freely. It says so much about the society that we are and the society that we want to live in.
This is a historic moment that will resonate in many people's lives. I am proud that we have made it happen, and I look forward to the first same sex wedding by next summer.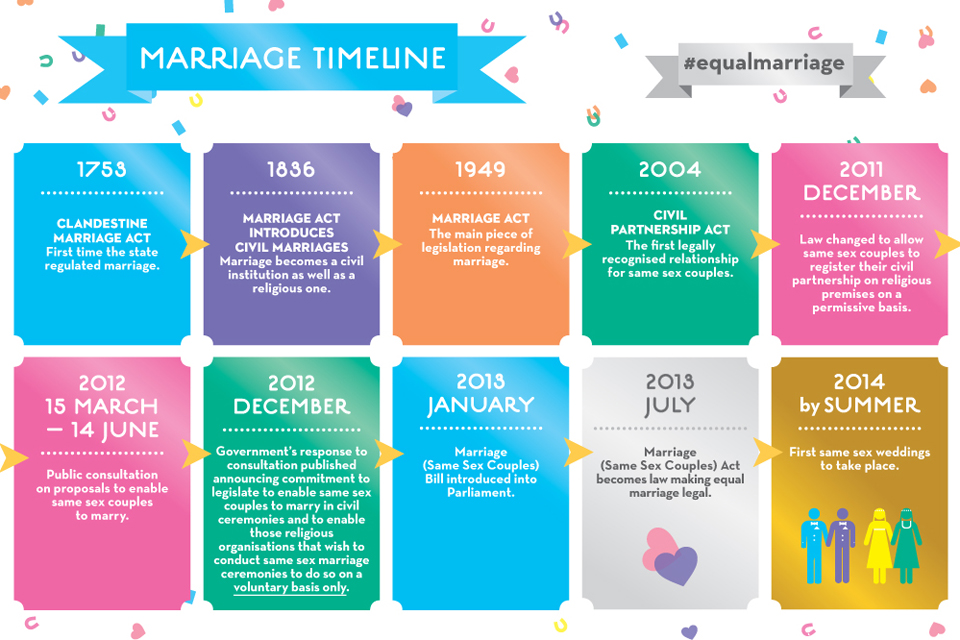 View a full-size version of this graphic on flickr
First same sex weddings by summer 2014
Work is now underway across Government to ensure that all the necessary arrangements are in place to allow marriages of same sex couples to take place a quickly as possible. Once the necessary processes are in place, it is anticipated that the first wedding could happen by summer 2014.
The arrangements for allowing the conversion of civil partnerships to marriages, and allowing people who change their legal gender to remain in their marriages, will follow later, as these will take longer to implement. We will announce further details in due course.
Further information
Published 17 July 2013