News story
Rural Payments Agency provides applicants with BPS update
The Rural Payments Agency has begun to send out a Basic Payment Scheme update leaflet to 2015 applicants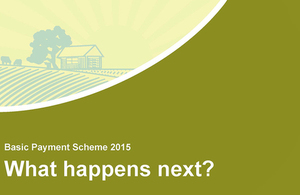 The Rural Payments Agency (RPA) has begun to send out a Basic Payment Scheme (BPS) update leaflet (PDF, 1.3MB, 3 pages) to all 88,000 farmers and agents who submitted a BPS 2015 application. The leaflet called 'Basic Payment Scheme 2015: What happens next?' is being sent to farmers so they know what to expect in the coming months.
The main focus of the leaflet is on when and how farmers should expect to hear from the RPA about their claims. The leaflet also reminds farmers to let the RPA know if they have changed their bank details recently and advises them that email will be used as the primary means of contacting them in the future. The leaflet will further confirm the exchange rate for payments and advise farmers how to avoid being a victim of fraud.
The leaflet explains that the RPA will announce the payment rates for BPS, including entitlement values, greening payments rate and young farmer payment, on GOV.UK. Farmers and landowners are also told that the RPA will be contacting them to let them know if their application for entitlements has been successful ahead of the BPS payment window, which opens in December 2015 and runs until June 2016.
RPA Customer Director Justin Chamberlain said:
We understand how hard-pressed farmers are and how important prompt payments are to them. We've input the vast majority of all claim data into the Rural Payments system and we're now working on land and entitlement transfers.

We are on track to start making payments from December with the majority before the end of December and the vast majority by the end of January 2016.
Financial information
The leaflet explains that, when a payment has been made, the RPA will send out a Remittance Advice which will show the amount paid. This will be followed by a Claim Statement providing details of how the payment was worked out and any reductions or penalties applied.
Applicants are also reminded that if their bank details have changed they need to call the Rural Services helpline on 03000 200 301 to provide new details. If they have recently changed their email address they can log in to the Rural Payments system to update it.
Avoiding fraud
The leaflet alerts farmers to potential fraud as the 2015 BPS payment window approaches. Remember:
Your bank will never ask you for your full online password
Your bank will not ask you to make a payment over the phone using your online account
If your bank rings you and asks you to call back, make sure you can hear a dial tone first or use a different phone to call the bank directly
The RPA will not call you directly and ask for your bank details. You will be asked to call us back and be required to clear security questions before we talk to you about your personal details.
For more information on BPS 2015 please visit www.gov.uk/rpa/bps.
Published 26 October 2015
Last updated 28 October 2015
+ show all updates
Added leaflet to news item
First published.