News story
Rural Payments Agency confirms entitlement values for 2016 Basic Payment Scheme
2016 Basic Payment Scheme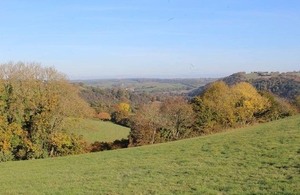 The Rural Payments Agency (RPA) has confirmed the entitlement values, and payment rates for greening, which will now be used to calculate farmers' 2016 Basic Payment Scheme (BPS) payments.
The Euro exchange rate that will be used to calculate all payments is €1 = £0.85228.
Entitlement values
Under the BPS scheme, farmers need to hold an entitlement for every hectare of eligible land they are claiming on. The size of farmers' payments will depend on how many entitlements they use, supported by eligible land and the value of those entitlements.
Entitlement values are:
€175.27 for non-SDA (Severely Disadvantaged Areas)
€174.01 for upland SDA, other than moorland
€45.97 for upland SDA moorland
Greening rates
Farmers must also meet greening rules to receive additional funding. The greening part of payments will be calculated by taking the number of entitlements that they have used with eligible land to claim payment and multiplying it by the greening value.
The greening rates are:
€77.71 for non-SDA (Severely Disadvantaged Areas)
€77.15 for upland SDA, other than moorland
€20.39 for upland SDA moorland
Young Farmer Payment
Eligible Young Farmers, who applied, will receive an additional payment. This is worth up to 25% of the average value of the entitlements they used to claim BPS in 2016 (up to a maximum of 90 entitlements).
The scheme guidance can be found at GOV.UK/guidance/bps-2016.
Financial Discipline Mechanism
The Financial Discipline Mechanism (FDM) deduction rate has been confirmed at 1.353905% by the European Commission. The RPA will now use this rate to calculate 2016 BPS payments by applying it to all payment amounts over €2,000. This will be used to create a reserve fund to support the farming industry in times of crisis, such as disease outbreak.
Published 15 November 2016