News story
RPA publishes new Basic Payment Scheme forms online
Blank BPS claim form and RLE1 form now available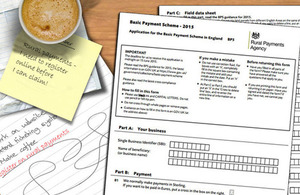 The Rural Payments Agency (RPA) has moved swiftly to deliver on a new approach, announced last Friday, to ensure farmers, landowners and agents have the help they need to make a Basic Payment Scheme (BPS) claim.
Over the weekend, the agency emailed all farmers and agents who have registered for the new Rural Payments system, outlining the options now available to make their application.
From yesterday (Monday, 23 March) farmers can find guidance on GOV.UK to help them prepare their claim.
This includes a blank BPS claim form (BP5); the RLE1 form for changes to, and transfers of, land and entitlements; and land use codes for 2015 claims.
Farmers and agents can use the blank claim form to prepare for their claim, ahead of receiving a pre-populated one during April which they can then complete and submit in time for the end of the application window.
Those wishing to make land changes can now use the RLE1 form to let RPA know. This form can also be used to transfer entitlements - the deadline for transferring BPS entitlements to be used in 2015 will be confirmed in the next few days and we will publish more information as soon as we have it.
Published 24 March 2015