News story
RPA on track to meet BPS payment targets
Rural Payments Agency continues to pay Basic Payment Scheme claims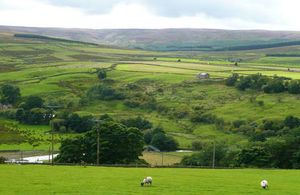 Nearly half of all farmers claiming Basic Payment Scheme (BPS) payments this year have received their money ahead of Christmas, the Rural Payments Agency (RPA) has announced.
More than 42,000 farmers out of a total 87,095 claimants have received fully validated BPS payments, representing over 48 per cent of all eligible claims. It means the agency remains on track to meet its commitment to pay more than half of eligible claimants before the end of December.
RPA Chief Executive Mark Grimshaw said:
We understand how important these payments are to hard-pressed farmers. Our focus has always been on making sure accurate payments reach as many farmers as possible.

We remain on track to meet our commitments to pay more than half of eligible claims in December and the vast majority by the end of January, and work continues on processing the remaining claims.
The RPA has also paid out over 95 per cent of EU support payments to eligible UK dairy farmers. The UK government secured £26.6million from the European Commission in September to help ease the pressure of volatility and low milk prices – the third-largest share of all the Member States. To date, over 12,500 farmers have received a share of the £25.4million paid out so far.
Small, medium and large sized enterprises across England, and in all sectors of the industry, have received BPS payments ranging from under £500 to £150,000.
The RPA remains on track to make the vast majority of 2015 BPS payments by the end of January. The agency is processing regular batches of payments and further payment runs will be made to farmers during December and throughout January.
Meanwhile, Natural England (NE) has made 96 per cent of Environmental Stewardship advance payments - the first of two payments due to scheme participants - worth over £158million. To date 45,876 farmers, land managers and foresters have received their payments. NE is on track to complete all payable claims by the end of December.
Any BPS claimant in England who has received a letter from the RPA asking them to register on the Rural Payments system, or to provide up to date bank account details, is urged to call the RPA's helpline on 03000 200 301 as soon as possible if they have not done so already to ensure payments can be made.
Published 23 December 2015