News story
Review launched to target reckless trade in 'legal highs'
Laws on new psychoactive substances will be reviewed in a bid to clamp down on the trade in potentially fatal drugs.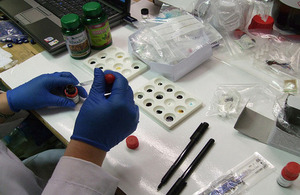 A review of new psychoactive substances is being launched in a bid to clamp down on the trade in potentially fatal drugs, the government has announced.
The review will look at how the UK's laws, and enforcement against, so-called 'legal highs' can be improved. Options include the expansion of legislation to ensure police and law enforcement agencies have better tailored powers.
The move comes on the same day as the government announced that two new groups of psychoactive substances – NBOMe and Benzofuran compounds – will become classified as class A and B drugs respectively.
NBOMe and Benzofuran compounds are currently under a temporary banning order, which will become permanent when legislation is passed next year.
Crime Prevention Minister Norman Baker said:
The coalition government is determined to clamp down on the reckless trade in so-called 'legal highs', which has tragically already claimed the lives of far too many young people in our country.

Despite being marketed as legal alternatives to banned drugs, users cannot be sure of what they contain and the impact they will have on their health. Nor can they even be sure that they are legal. Our review will consider how current legislation can be better tailored to enable the police and law enforcement officers to combat this dangerous trade and ensure those involved in breaking the law are brought to justice.

NBOMe and Benzofury are drugs which have caused serious harm and in some cases death to those who have taken them. Outlawing them is crucial in the battle to restrict their supply and use.
'Legal highs'
The review will be led by the Home Office with input from experts in law enforcement, science, health and academia. It will consider the nature of the 'legal highs' market and the effectiveness of the UK's current legislation and operational response to date.
It will then:
identify legislative options for enhancing the government's response;
consider the opportunities and risks of any new ideas identified, informed by international and other evidence
make a clear recommendation for an effective and sustainable UK-wide legislative response to new psychoactive substances.
The review's findings will be presented to Home Office ministers in spring 2014.
The Home Office also today published updated guidance for local government on the different action trading standards can take against shops selling new psychoactive substances.
This new guidance is intended to make clear what action can be taken against businesses that break the law and to encourage further action by local authorities.
Published 12 December 2013