Press release
Report reveals 36 women died from flu in 3 years
A new report by MBRRACE-UK shows flu was the cause of death for 1 in 11 women who died during, or shortly after pregnancy.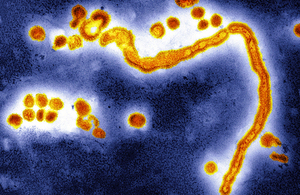 Public Health England (PHE) is urging more pregnant women to come forward for the free flu vaccination this winter as a new report published today (9 December 2014) shows how fatal the virus can be for pregnant women.
The national maternal deaths report led by a team of academics, clinicians and charity representatives, called MBRRACE-UK shows that amongst those women who died in, or shortly after, pregnancy, between 2009 and 2012, flu was the cause of death in 1 in 11.
Within this period, which includes the period of the influenza pandemic in 2009 to 2010, a total of 36 pregnant women died with strains of the flu virus that the current vaccine will protect against. Half of the deaths occurred after the vaccine became available free-of-charge to pregnant women, but sadly none of the women were known to be vaccinated.
Pregnant women are at increased risk of serious complications and death from flu compared with other healthy adults. Flu can also affect the pregnancy, leading to stillbirth, prematurity and low birthweight. Flu can also be serious for new-born babies, who cannot be protected themselves by vaccination, but gain some protection if their mother is vaccinated in pregnancy. The mother's antibodies from the vaccine help to prevent serious infection from flu for the baby in first few weeks of life. They are also less likely to catch the virus from a vaccinated mother.
The report is published as latest figures from Public Health England (PHE) show that, while influenza levels remain low in England, there are recent indications that flu is beginning to circulate more widely in communities as the number of outbreaks and hospitalisations due to the virus begins to increase.
Professor Maria Zambon, Director of PHE's Reference Microbiology Centre, said:
Flu is now largely preventable for pregnant women and their babies, because a free, safe and effective vaccination is offered from the NHS. The vaccine is not a live vaccine and it cannot give you flu. Despite this, around 60% of pregnant women in England have yet to get the flu vaccine this winter, and this of great concern.
Dr Mary Ramsay, Head of Immunisation for PHE, added:
Vaccination also helps to minimise the effects of flu in pregnancy. We know that women are at increased risk of complications in pregnancy arising as a result of flu, and the risk increases in the later stages of pregnancy. Getting flu during pregnancy can lead to an increased risk of miscarriage, premature birth or having a low weight baby. Having the vaccination reduces the chances of getting flu, which in turn means the risk of these complications is significantly reduced.

We know that mothers want to do all they can to protect their babies and it's not too late for pregnant women to get vaccinated. We urge all pregnant women, and anyone else who is eligible but hasn't yet received their free flu vaccination, to contact their GP or midwife today. It's free because you need it.
For most healthy people, flu is an unpleasant but usually self-limiting disease with recovery taking up to a week. However for older people, the very young, pregnant women and those with a health condition (particularly chronic respiratory conditions such as asthma, diabetes or heart disease or those with a weakened immune system) are at particular risk from the more serious effects of flu. As a result these groups are offered a flu vaccination by the NHS.
Since 2013, 2- and 3-year-olds have been eligible for flu vaccination with a newly available nasal spray, and this year the spray is also being offered to 4-year-olds.
Ends
Notes to editors
The Maternal, Newborn and Infant Clinical Outcome Review Programme is run by MBRRACE-UK, a collaboration led from the National Perinatal Epidemiology Unit at the University of Oxford with members from the Universities of Leicester, Liverpool, Birmingham and University College London, as well as a general practitioner, and Sands, the stillbirth and neonatal death charity.
PHE has developed a leaflet for mums-to-be about the flu vaccine in pregnancy
Public Health England exists to protect and improve the nation's health and wellbeing, and reduce health inequalities. It does this through world-class science, knowledge and intelligence, advocacy, partnerships and the delivery of specialist public health services. PHE is an operationally autonomous executive agency of the Department of Health. Website: www.gov.uk/phe. Twitter: @PHE_uk, Facebook: www.facebook.com/PublicHealthEngland
PHE Press Office, infections
61 Colindale Avenue
London
NW9 5EQ
Published 9 December 2014