Press release
Regius Professorships awarded to leading universities to mark Queen's 90th birthday
Her Majesty the Queen will honour 12 of Britain's leading universities today by creating Regius Professorships as part of her 90th birthday celebrations.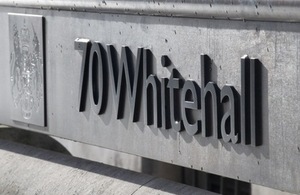 The title of Regius Professorship is a rare and prestigious award bestowed by the Sovereign to recognise exceptionally high quality research at an institution. Only 14 have been granted since the reign of Queen Victoria, including 12 to mark Her Majesty's Diamond Jubilee.
As in 2012, recipients of new Regius Professorships have been selected by open competition, judged by an independent expert panel of business and academic experts. A Regius Professorship is a well-deserved reflection of the exceptionally high quality of teaching and research at an institution.
Of the 12 universities, 5 are receiving a Regius Professorship for the first time, including the first to be conferred on universities in Wales and Northern Ireland.
Each institution will assign the title to an existing Professor at the chosen department or will appoint a new professor to take the chair and hold the title.
The new posts of Regius Professor are:
University of Manchester – Materials
University of Cardiff - Chemistry
Queen's University Belfast - Electronics & Computer Engineering
University of Glasgow - Precision Medicine
Newcastle University - Ageing
University of Liverpool - Chemistry
Aston University - Pharmacy
University of Warwick - Manufacturing (Engineering)
Institute of Cancer Research (University of London) - Cancer Research
Imperial College London - Infectious Disease
University of Southampton - Ocean Sciences
University of Oxford - Mathematics
Chancellor of the Exchequer, George Osborne said:
I am passionate about promoting science and economic growth right across the country.

That's why I promised to push for prestigious new Regius Professorships not just in London and Oxbridge, but in other great centres of learning, including the Northern Powerhouse, Wales, Scotland and Northern Ireland. I'm delighted that promise is being honoured today.
John Penrose the Minister for Constitution, will be visiting Manchester University today to make the announcement.
John Penrose, Minister for Constitution, said:
It is a privilege and an honour to announce these new Regius Professorships to mark Her Majesty's 90th birthday.

They show how world class theoretical research can be translated into everyday applications that drive British jobs and exports, and benefit society as a whole.
Jo Johnson, Minister for Universities and Science, said:
The success of our economy is underpinned by the exceptional science and research taking place in our world-leading universities up and down the country, and I'm delighted these 12 institutions have been recognised for their achievements.

We'll continue to make sure pioneering science is recognised and supported to help improve the lives of millions across the country and beyond.
Professor Dame Nancy Rothwell, President and Vice-Chancellor of The University of Manchester said:
I am delighted that the University of Manchester's world-leading research in materials has been recognised with this prestigious honour. The Regius Professorship will help to ensure that Manchester continues to be at the international forefront of materials research and applications.
In the past, Regius Professorships were created when a university chair was founded or endowed by a Royal patron. Previously, they were limited to a handful of the ancient universities of the United Kingdom and Ireland, namely Oxford, Cambridge, St Andrews, Glasgow, Aberdeen, Edinburgh and Trinity College, Dublin.
Announced in the government's Productivity Plan in July, the new Regius Professorships will celebrate the increasingly important role of academic research in driving growth and improving productivity over the past 90 years.
The creation of Regius Professorships falls under the Royal Prerogative, and each appointment is approved by the Monarch on ministerial advice. For the Diamond Jubilee, 12 Regius Professorship were created but prior to that only two others have been awarded in the last century, to mark the 200th anniversary of the birth of Charles Darwin in 2009. Before then, the most recent Regius Professorship was created by Queen Victoria.
Further information
All entries were assessed by the expert panel on the merits of their application alone, against a scoring system based on:
national and international recognition of excellent research across any field or fields of research
the leading role of the university in translating the research into use in wider society as a contribution to knowledge, or to solving a problem
a direct and significant benefit to the UK's economic effectiveness and productivity at a regional or national scale
other factors, such as the chance to mark a significant event in history of the institution or field of research
Panel members
The chair of the expert panel was Anne Glover, Chief Executive of Amadeus Capital Partners.
Other panel members include:
Baroness O'Neill: Philosophy and public policy; current chair the Equality and Human Rights Commission; former President of the British Academy; former Chair Nuffield Foundation; Emeritus Professor of Philosophy, University of Cambridge
Sir Robin Saxby: Founder, former Chief Executive and former Chair ARM and past president of IET; visiting professor, University of Liverpool and Fellow of Royal Academy of Engineering
Baroness Finlay: Professor of palliative medicine at Cardiff University; past president of the Royal Society of Medicine
Rowan Douglas: CEO of the Capital, Science and Policy Practice at Willis Group and Member of the PM's Council for Science and Technology and also Chairman; Willis Research Network, Willis Group and also member of the council of NERC
In addition to awarding Manchester University a Regius Professorship in Materials, over £250 million funding was confirmed for the Sir Henry Royce Institute for Advanced Materials which will be housed at the university.
This national institute will help accelerate the discovery and development of new materials systems for the benefit of the UK and builds on the world class materials science in universities across the UK.
Published 6 June 2016