World news story
Regional efforts for identifying migrants in the Western Balkans
British Embassy provides programme assistance in the Western Balkans for developing joint database of interpreters and legal framework.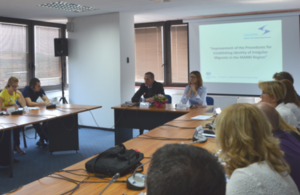 Efforts and techniques how to tackle better the migration issues in the countries of the Western Balkans was at the centre of the debate at the regional forum taking place in Skopje today. In light of the migrant crisis in Europe the British Embassy has decided to provide programme support to the Migration, Asylum, Refugees Regional Initiative (MARRI), which would help the countries members of the initiative to have joint database of interpreters for rare languages and a regional legal framework, efforts that will contribute to enhancing the capacity of national institutions in MARRI member countries.
Our ambassador Charles Garrett spoke at the official opening of the forum along with Tamara Mugosha, the MARRI director based in Skopje, underlining that migration at present was one of the key priorities the entire continent of Europe is facing. This is an international problem with a myriad of challenges and no country in Europe, including the Western Balkans and Macedonia are exception to it. He said:
With its regional approach, this project will help contribute to the international cooperation by ensuring that MARRI members reach the same level of capacity in migration management. Access to a regional pool of interpreters will significantly enhance the process of identifying migrants, not only in the context of managing migration, but also in protecting migrants rights.
The project Improvement of the Procedures for Establishing Identity of Irregular Migrants in the MARRI Region is being implemented in the period of June 2015 until March 2016.
Countries members of MARRI are Republic of Albania, Bosnia and Herzegovina, Republic of Macedonia, Montenegro, Republic of Serbia and Kosovo.
Connect with us on Facebook or follow us @ukinmacedonia
Connect with the British Ambassador on Facebook or @BritAmbCGarrett
Read our blog UK in Macedonia
Published 3 September 2015